Australia
'No problem' if no-one backs the Socceroos - Troisi
Goal Australia Chief Editor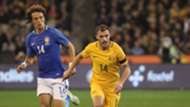 Socceroos midfielder James Troisi has embraced Ange Postecoglou's target of winning the Confederations Cup as Australia travel to Russia.
Postecoglou conceded on Wednesday that his goal of winning the World Cup warm-up event could sound "ridiculous" after the Socceroos were beaten 4-0 by Brazil earlier this week.
COMMENT: How the Socceroos can thrive with 3-2-4-1
But the 51-year-old coach refused to temper his ambition and Troisi is on the same page.
"We want to test us against the best and I'm sure there are not many backing us, but that's how all of us have had it through most of our career, so there's no problem with that," the attacking midfielder said.
"We want to go there and try and win it, so that's all we'll be aiming to do - try and win every game. So definitely going to be a hard task but you wouldn't be there if it wasn't."
Australia will start their Confederations Cup campaign on Monday against world champions Germany.
Cameroon and Chile will be the Socceroos' other opponents in Group B.
Germany are ranked 45 spots ahead of the Socceroos but Troisi and Co. have a decent recent record against Die Mannschaft.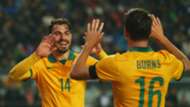 James Troisi, Germany v Australia, 2015
Since Germany humbled Australia 4-0 at the 2010 World Cup, the Socceroos have notched a win and a draw in two friendlies, with Troisi scoring in the 2-2 stalemate in 2015.
"That was probably one of Australia's best performances," he said.
"On the night we probably should have won that but… to play against some of the best players, some of the best countries in the world - that's what it's all about.
"I thoroughly enjoyed [the Brazil game]. Obviously not the result we wanted but we'll build on that and really looking forward to the Germany game."
The Socceroos will take on Germany in Sochi before facing Cameroon in St Petersburg on June 22 and Chile in Moscow three days later.