Aston Villa
No luck for the Irish - how Graham Burke went from Europe's top scorer to English exile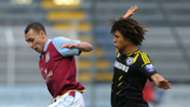 ---
INTERVIEW
---
Denis Suarez, Kingsley Coman, Raheem Sterling — what do they have in common? All three are senior internationals for their country, and all three were bettered by an unknown Irish teenager.
Before the UEFA Youth League was founded in 2013-14, Europe's elite underage competition was the NextGen Series, which ran for two seasons and was won by Inter and Aston Villa. It featured the best teams in Europe, with many current stars having shone in the tournament before going on to greatness.
Courtois, not De Gea, is Real's No.1
When Villa won the second, and final, edition of the competition, they were spearheaded by a hard-working Dubliner, who netted both goals in the final against Chelsea. Graham Burke finished the tournament as the top scorer, and seemed destined for bigger and better things.
However, like many wonderkids and young heralded talent, Burke's career did not work out like he - and others - had hoped. There was no denying his natural ability in front of goal, but when he needed it most, luck always seemed to desert him.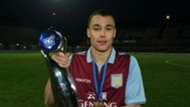 Just a few weeks after the NextGen Series triumph, Burke was drafted into the Republic of Ireland Under-21 squad. Then, it looked like that was the start of a bright future for his country, first for Noel King's U-21s before his inevitable progress into the Ireland senior squad.
"I just made my debut for the Under-21s three weeks ago against Portugal, and I think that came from doing well for Villa," Burke told Goal in 2013. 
"Noel King came over to watch us and you always want to impress the national manager, but club football comes first. I know if I do well at Villa, then hopefully international football will lead from that.
NxGn: Football's top 50 Under-19 talents
"Winning the NextGen was the biggest achievement of my career, and especially scoring the two goals in the final. I think that if I keep working hard, then opportunities will come."
Burke worked hard at Villa Park. He had no other choice. It was an unusual environment for the teenager, who just wanted to impress on the training ground and win a spot in the senior team.
Now, he looks back on the period fondly, but also reveals the trials and tribulations of any foreign player trying to progress in the English academy system.
"For someone to move away at 16, it's very difficult," the 23-year-old said to Goal earlier this month. "The English guys finish training and go home to environments they're comfortable with. I was a young guy coming over from Ireland, didn't know anyone, didn't know the area I was living in."
The same season he experienced his success at underage level, Burke made his senior debut for Villa. He came off the bench in the League Cup, and then featured again in the same competition. He was forced to watch from the bench in the Premier League as manager Paul Lambert looked to senior figures like Christian Benteke and Darren Bent to help the club avoid relegation.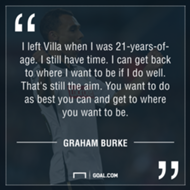 Aston Villa finished 15th and 17th in the next two campaigns, meaning that experienced heads were preferred to youth in order to battle for points and stay in the top flight. This meant that Burke and the other stars from the NextGen Series were ignored. The forward believes that if he had been at a different club, then a chance would come. But with Villa fighting for every result, he was never offered the chance to show what he could offer.
Messi faces ban over alleged Chile rant
"Every year I was there, we were fighting relegation," Burke admits. "It's a risk to be playing young guys and bringing young guys into the team. Most of the time you'd be on the bench, training with them, but as far as getting that chance you want, it's not there with the team struggling. For them, they can't say 'we'll give this young boy a go'. If they were doing well, they might be able to give chances to the younger players."
Burke was determined to get a chance to prove himself. So when a chance to go on loan came, he took it. First to Shrewsbury Town and then to Notts County in order to gain first-team experience. He was fed up playing at underage level and getting cameo appearances in the cups, so needed to play regular senior football.
When Villa released him, he signed permanently with Notts County, but again, fate was not on his side.
"I went on loan to Shrewsbury and that didn't work out for me, so I came back to Villa," he continues. "I then went to Notts County on loan for about 13 games, and ended up playing 10 of them. It worked out for me. Then I ended up signing for them. You have to go out and play. You can't just play in underage football, so I went out to experience playing football with men, and test yourself against men.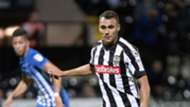 "After six months at Notts County, I was doing well. But then the manager got sacked, and a new manager comes in. I wasn't even figuring for the next six months. I had to make another decision. I wasn't enjoying it. So, at least I know if I go back to Ireland, and around family and be happy. If I'm happier, I'll perform better."
Man Utd & Mou best for Pogba - Pires
Burke moved back to Dublin at the start of 2017 to join Shamrock Rovers, showing his talent on his League of Ireland debut with a goal from the bench. Back in 2013, he had no obstacles to being Europe's top goalscorer, and although his career trajectory has not gone the way many expected, he still believes that if he gets a bit of the luck of the Irish, he can be back at the top again.
"Why can't I be the top goalscorer? What's stopping me being the top goalscorer in Europe? I left Villa when I was 21. I still have time. I can get back to where I want to be if I do well.
"That's still the aim. You want to do as best you can and get to where you want to be. Even with Shamrock Rovers, there's so much ability that can make it. I know what it's like, I've been in England, I see players that should be there. The margin is very slim. In football, you need a bit of luck. Luck is very important in football, and maybe I didn't have that."