Real Madrid
NIVEA MEN Deep Insights: Marcelo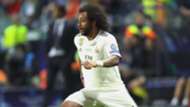 Real Madrid left-back Marcelo has established himself as one of the best full-backs of his generation during a career in which he's achieved almost all there is to achieve in the game.
Marcelo is one the Real Madrid Stars featured in the NIVEA Men TV advert
Since joining Real from Fluminense in 2007, he's won four Spanish titles, two Copa del Reys, three Spanish Super Cups, and a trio each of Uefa Super Cups and Club World Cups.
Most impressive, of course, is his Champions League haul of four titles. It's a record that sets him among the most successful players in the tournament's history.
Real may have missed out on the Spanish title last term, but the Brazilian international again demonstrated why he ought to be considered among the division's top fullbacks.
Offensively, his contributions have always caught the eye, and last season was no different.
He netted twice and contributed six assists, only two other pure full-backs Jordi Alba and Cote managed more.
In terms of chance creation, Marcelo ranked firmly among the division's top players and was the only defender inside the top 10 last term as far as key passes per game.
He ended the campaign having averaged two goalscoring chances created for his teammates per match and has already scored two goals -including one in the El Clasico- in the current campaign, which is a sensational return for a defender.
The 30-year-old was a little behind the division's most consistent chance creator — Jonathan Viera of Las Palmas who averaged 2.7 per match — but outshone any other defender in the division (the next best was Cote with 1.5).
His crosses are a lethal weapon, and the Brazil international's average of 1.1 per game last term put him just outside the top 10 in the division.
He's some way behind Alex Granell of Girona with 1.9 per match, but it's nonetheless a healthy return.
Elsewhere, Marcelo averages 1.2 dribbles per match — putting him level with Gareth Bale — and his average of 57.4 passes per game put him just outside the top 20 in the division for passing influence.
Marcelo's high-quality attacking contributions didn't ultimately lead to a domestic championship last season, but he remains one of the finest full-backs in Spanish football and can expect further silverware this season.