Transfers
'Neymar doesn't know what to do' - Pique offers advice amid PSG transfer poser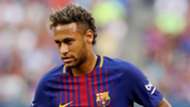 Gerard Pique admits Barcelona team-mate Neymar "doesn't know what to do" as he continues to be linked with a record-breaking move to Paris Saint-Germain.
Speculation suggests that a €222 million deal could be on the cards, with PSG prepared to meet the buy-out clause in the Brazilian's contract.
Neymar, Coutinho & Mbappe all to leave - 7/4
Barca are prepared to let Neymar make the final call on his future, although prominent figures at the club – such as president Josep Maria Bartomeu and team-mates Luis Suarez and Andres Iniesta – have called on the 25-year-old to stay.
Pique concedes that he is no nearer to knowing what decision will be made – having previously posted a picture on Twitter with Neymar captioned "he stays" – with a tough call facing his South American colleague.
Bartomeu: PSG must pay Ney clause
The Spain international said ahead of a Clasico clash with Real Madrid at the International Champions Cup : "Neymar and I are very close and I want him to stay and I know the situation.
"Right now he doesn't know what to do and we are trying to help him, the ones [on the team] that are more close to him to take the right decision.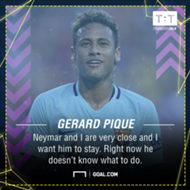 "It depends on what he wants.
"He can be in all the clubs in all the world. He can be in Paris, Barcelona, Chelsea or City. All the clubs will want him.
"It's about your priorities. What do you want? Do you want more money? Do you want to win titles?"
Ronaldinho offers advice to Neymar
PSG would be able to match Neymar's ambition to land major titles, but Barca are still considered to be one of the most fearsome teams in Europe and would expect to mount serious challenges for La Liga and Champions League crowns next season.
The player at the centre of an intense summer transfer saga is yet to speak out on the issue, though, with his only involvement so far seeing him confirm that he will attend a promotional event in China amid suggestions that he would not be visiting Asia as "transfer issues" were resolved .