New York RB
New York Red Bulls 2018 season preview: Roster, projected lineup, schedule, national TV and more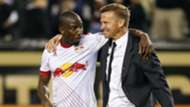 A promising end to the 2017 season gave the New York Red Bulls reason for optimism, and another offseason roster revamp has Jesse Marsch believing the 2018 Red Bulls could be his best team yet.
The arrival of Alejandro Romero Gamarra has the Red Bulls believing they have upgraded their attack, and the continued growth of young standouts Tyler Adams and Aaron Long should also help the Red Bulls improve in a 2017 that saw several close matches not go their way.
The Red Bulls are known for their high-pressing style and have revamped the roster with their system in mind, injecting young and versatile talent throughout the roster. 
Veterans Luis Robles and Bradley Wright-Phillips serve as the foundation of a Red Bulls team that will be younger in 2018, and also one that is the deepest Red Bulls team we have ever seen. Marsch has a wealth of options in midfield and along the back-line, and will have the ability to deploy his team in a variety of systems, including a 4-5-1 setup, as well as the 3-6-1 system we saw them use successfully in 2017.
Wright-Phillips will be called on to do the heavy lifting in the goal-scoring department, but Daniel Royer showed last season that he can help carry the load as well. Forward options Carlos Rivas and Amando Moreno should give the Red Bulls good attacking options, though Marsch will need his defense to come together if the Red Bulls are going to challenge for a top spot in the loaded Eastern Conference.
---
How did the Red Bulls perform in 2017?
---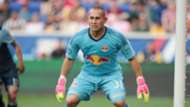 2017 finish: 6th in Eastern Conference (14-12-8), lost to Toronto FC in the Eastern Conference semifinals.
It was a season of streaks for the Red Bulls, which won six of eight matches during the summer to raise expectations, but a stretch of eight matches without a win coincided with the team's shift to a new formation forced the Red Bulls to back into the playoffs. They showed their quality in knocking off the Chicago Fire before pushing eventual MLS Cup winner Toronto FC to the brink.
The Red Bulls will need to improve on the road in order to join the elite in the East, with their 10 road losses the most suffered by the team since 2009 (when they finished 0-13-2).
---
Red Bulls' key offseason losses
---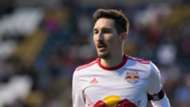 The Red Bulls bid farewell to Sacha Kljestan, marking the second straight offseason they traded away a star midfielder. One of the league's top playmakers, Kljestan compiled 51 assists over the course of three seasons. It was his inability to get the Red Bulls deeper into the playoffs that likely led to a change in the attacking midfielder role.
Argentine forward Gonzalo Veron returned to Argentina after being cut loose after last season. The former designated player never lived up to the billing he arrived with, managing just 13 goals in three seasons.
The Red Bulls also parted ways with veteran midfielder Mike Grella, who suffered through an injury-hit 2017, and has since moved on to the Columbus Crew.
Veteran French center back Damien Perrinelle and Ghanaian defender Gideon Baah were sent packing this winter as well. Veteran fullback Sal Zizzo left via free agency, joining Atlanta United.
---
Red Bulls' key offseason additions
---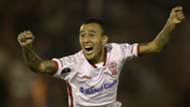 No signing was bigger than that of Alejandro Romero "Kaku" Gamarra, who joined via a winter transfer from Argentine side Huracan. The Argentinian playmaker arrives as a young designated player and will be handed the keys to the attack, replacing Sacha Kljestan.
Trading Kljestan to Orlando City helped the Red Bulls add a pair of promising roster pieces in speedster Carlos Rivas and young defender Tommy Redding . A member of the U.S. Under-20 World Cup team last summer, Redding is a prospect to watch, while Rivas gives the Red Bulls a speed element they were lacking last year.
German midfielder Marc Rzatkowski arrives on loan from Red Bull Salzburg, and will be competing for a starting role. He is capable of playing in central midfield as well as a right winger.
Former Club Tijuana forward Amando Moreno returns to the club where he began his pro career, and should provide some depth up top. Rookie homegrown signing Kevin Politz is a highly-regarded central defender prospect who could push for time.
---
Full Red Bulls roster entering 2018 season
---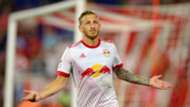 Goalkeepers:  Luis Robles, Ryan Meara, Evan Louro
Defenders:  Aurelien Collin, Fidel Escobar, Connor Lade, Kemar Lawrence, Aaron Long, Michael Murillo, Hassan Ndam, Kevin Politz, Tommy Redding
Midfielders:  Tyler Adams, Vincent Bezecourt, Cristian Casseres Jr., Sean Davis, Derrick Etienne, Jr., Felipe, Ben Mines, Alex Muyl, Alejandro Romero Gamarra, Daniel Royer, Marc Rzatkowski, Florian Valot
Forwards:  Anatole Abang, Stefano Bonomo, Amando Moreno, Carlos Rivas, Bradley Wright-Phillips
---
Red Bulls projected starting lineup
---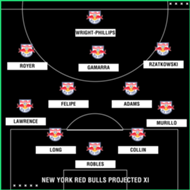 Jesse Marsch showed in 2017 a willingness to try new things tactically, and the emergence of a 3-6-1 formation helped the Red Bulls finish the season with some impressive performances. We could see that system again, though there's a good chance the four-man defense will make its return.
Where Tyler Adams plays will be a big storyline in 2017, with the U.S. national team prospect expected to see more time in central midfield in 2018 after finishing last season deployed mainly as a right wing back. He flourished in that role, but the popular belief is his future lies in central midfield and Marsch is committed to using him in both spots.
Lineup versatility is going to be a hallmark of the 2018 Red Bulls, with players like Gamarra, Daniel Royer, Adams, Carlos Rivas, Michael Murillo and Fidel Escobar capable of playing in a variety of positions. Depth in all areas should help the Red Bulls deal with potential injuries, though Wright-Phillips remains a player who would be tough to replace if he missed any time.
Central defense will see a good fight for minutes, with youngsters Tommy Redding and Kevin Politz capable of beating out the veteran Collin for minutes. Michael Murillo can also play in central defense, as we saw in last year's three-man defense.
---
Red Bulls national TV coverage
---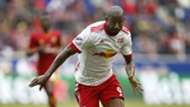 Orlando City vs. New York Red Bulls - Saturday, March 31, at 1 p.m. ET on UniMas
New York Red Bulls vs. Houston Dynamo - Saturday, April 7, at 3 p.m. ET on Univision
New York Red Bulls vs. Chicago Fire - Saturday, April 21, at 2 p.m. ET on Univision
New York Red Bulls vs. New York City FC - Saturday, April 5, at 2 p.m. ET on ESPN
Atlanta United vs. New York Red Bulls - Sunday, May 20, at 7 p.m. ET on FS1
Columbus Crew vs. New York Red Bulls - Saturday, June 9, at 5 p.m. ET on ESPN
New York Red Bulls vs. FC Dallas - Saturday, June 23, at 6 p.m. ET on UniMas
Toronto FC vs. New York Red Bulls - Sunday, July 1, at 4:30 p.m. ET on FOX
New York City FC vs. New York Red Bulls - Sunday, July 8, at 7 p.m. ET on FS1
New York Red Bulls vs. Los Angeles FC - Sunday, August 5, at 6 p.m. ET on FS1
New York City FC vs. New York Red Bulls - Wednesday, August 22, at 7 p.m. ET on FS1
New York Red Bulls vs. D.C. United - Sunday, August 26, at 7 p.m. ET on FS1
D.C. United vs. New York Red Bulls - Sunday, September 16, at 1 p.m. ET on ESPN
New York Red Bulls vs. Atlanta United - Sunday, September 30, at 1 p.m. ET on ESPN