MLS
New York Red Bulls 2017 MLS season preview: Roster, schedule, national TV info and more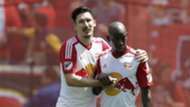 ---

2017 MLS SEASON PREVIEW
---
Most teams in Major League Soccer would have been happy with the season the 2016 New York Red Bulls put together, but a bitter ending made it a season the club was in a hurry to forget. The team's latest earlier-than-expected playoff exit left Jesse Marsch doing some soul-searching, and the coach was left with the stark reality that a shakeup was going to be needed this winter.
Playoff disappointment compels NYRB revamp
The Red Bulls' playoff loss to the Montreal Impact made it easy to forget another strong regular season at Red Bull Arena, as New York finished first in the Eastern Conference during the regular season — an impressive feat considering the 1-6 start to the season the Red Bulls endured. During that same season, we saw Bradley Wright-Phillips lead MLS in goals and Sacha Kljestan lead in assists, earning both MVP finalist nods.
The Red Bulls were riding a 16-match unbeaten streak heading into the 2016 playoffs, but that run of form quickly fizzled in a shock playoff loss to Montreal, as their abrupt exit in the East semifinals left management believing it was time for a serious change.
The result was a stunning trade that sent Red Bulls captain Dax McCarty to the Chicago Fire. It was a move made to pave the way for some exciting young midfield talent in the pipeline, and to help strengthen the team in other areas.
Tactical changes are also in store for the Red Bulls, who appear ready to switch to a two-forward system and get away from the 4-2-3-1 setup we've grown accustomed to seeing them in. Will that be enough to help turn things around and push the Red Bulls closer to their first MLS Cup? We will soon find out.
---
How did the Red Bulls perform in 2016?
---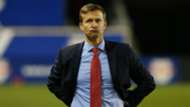 2016 finish: First in Eastern Conference (16-9-9), eliminated in Eastern Conference semifinals.
The Red Bulls overcame a 1-6 start to climb out of last place and eventually take hold of first in the East. New York went nearly four months without a loss but saw its season ended abruptly in an Eastern Conference semifinal series loss to the Montreal Impact. It marked the third time in four years (and fourth time in seven years) that the Red Bulls finished first in the East, only to fall short of reaching the MLS Cup final.
---
Red Bulls' key offseason losses
---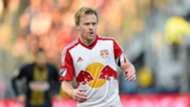 No loss was bigger than Dax McCarty, who was traded to the Chicago Fire for allocation money. The former Red Bulls captain will be tough to replace, but Marsch believes Sean Davis and Tyler Adams are ready for bigger roles.
The Red Bulls lost right back Chris Duvall to the expansion draft, a tough blow considering he was a regular starter when healthy. Central defender Ronald Zubar was shown the door to make way for younger options.
Also cut loose this winter were Shaun Wright-Phillips, Kyle Reynish and Omer Damari.
---
Red Bulls' key offseason additions
---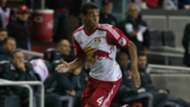 While most teams around the league hit the international market or the MLS draft to replenish their rosters, the Red Bulls will be turning mostly to members of their USL title-winning Red Bulls II team to step up and take on first-team roles.
Tyler Adams played in one first-team match for the Red Bulls in 2016, spending most of the season as one of the key figures on Red Bulls II. He blossomed in the USL, and is poised for a breakout year as a result. Center back Aaron Long is another USL graduate who could be poised for a starting role with the first team this season. Derrick Etienne Jr. is another second-year pro who has looked sharp in preseason and could break into the first-team picture this year. Forward Brandon Allen has also shown improvement and could push for playing time.
In terms of actual new faces, Panamanian fullback Michael Murillo is expected to join the Red Bulls on loan, and he should contend for playing time at right back. Young Cameroonian defender Hassan Ndam has also joined the Red Bulls, though the 6-foot-4 center back is expected to be more of a long-term project. Homegrown player signings Arun Basuljevic and Evan Louro are more long-term projects, as is winger and first-round MLS draft pick Zeiko Lewis.
---
How will the Red Bulls' starting lineup look in 2017?
---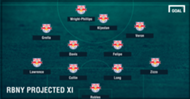 Marsch plans on having the Red Bulls play with two forwards more often, which will mean going away from the 4-2-3-1 formation the Red Bulls employed so effectively over the past two seasons. Whether he partners Wright-Phillips up top with Gonzalo Veron, or pushes Kljestan further upfield and closer to the striker, the days of having Wright-Phillips isolated up top on his own appear to be over.
The big question about the Red Bulls lineup is just who will replace McCarty. Davis and Adams are expected to compete for that spot, with Adams being seen as the long-term answer. Davis isn't going to go without a fight, though, and his strong showings last season suggest he is capable of handling the role. That said, Adams is considered a future star who many see being a lock starter sooner than later.
A hernia injury hampered, and eventually sidelined, Mike Grella last season, and he underwent surgery to fix the problem. He is still working his way back, and if he can regain his top form, he should be back in the starting lineup. Daniel Royer should fill in until Grella is 100 percent.
Long, the reigning USL Defender of the Year, has had a strong camp and is projected to begin the season as the starting central defender next to Aurelien Collin.
---
Full Red Bulls roster entering the 2017 season
---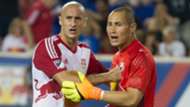 Goalkeepers: Rafael Diaz, Luis Robles, Evan Louro, Ryan Meara
Defenders: Gideon Baah, Justin Bilyeu, Aurelien Collin, Connor Lade, Kemar Lawrence, Michael Murillo, Hassan Ndam, Damien Perrinelle, Sal Zizzo
Midfielders: Tyler Adams, Arun Basuljevic, Sean Davis, Derrick Etienne Jr., Mike Grella, Sacha Kljestan, Felipe, Dan Metzger, Alex Muyl, Daniel Royer, Gonzalo Veron
Forwards: Anatole Abang, Brandon Allen, Bradley Wright-Phillips
---
Red Bulls' national TV coverage schedule
---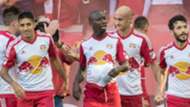 Atlanta United vs. New York Red Bulls - Sunday, March 5, at 7:30 p.m. ET on FS1
New York Red Bulls vs. Colorado Rapids - Saturday, March 11, at 4 p.m. ET on UniMas
Seattle Sounders vs. New York Red Bulls - Sunday, March 19, at 7 p.m. ET on FS1
Orlando City vs. New York Red Bulls - Sunday, April 9, at 4 p.m. ET on ESPN
New York Red Bulls vs. LA Galaxy - Sunday, May 14, at 4 p.m. ET on FS1
New York Red Bulls vs. Toronto FC - Friday, May 19, at 7:30 p.m. ET on TSN
Philadelphia Union vs. New York Red Bulls - Sunday, June 18, at 5 p.m. ET on ESPN
New York Red Bulls vs. New York City FC - Saturday, June 24, at 1:30 p.m. ET on Fox
Minnesota United vs. New York Red Bulls - Saturday, July 22, at 4 p.m. ET on ESPN
New York City FC vs. New York Red Bulls - Sunday, Aug. 6, at 6 p.m. ET on FS1
Portland Timbers vs. New York Red Bulls - Sunday, Aug. 20, at 8 p.m. ET on FS1
New York Red Bulls vs. New York City FC - Friday, Aug. 25, at 7 p.m. ET on ESPN
FC Dallas vs. New York Red Bulls - Saturday, Sept. 2, at 9 p.m. ET on UniMas
Chicago Fire vs. New York Red Bulls - Saturday, Sept. 9, at 4 p.m. ET on UniMas
New York Red Bulls vs. Philadelphia Union - Sunday, Sept. 17, at 1 p.m. ET on ESPN
Toronto FC vs. New York Red Bulls - Saturday, Sept. 30, at 7 p.m. ET on TSN
New York Red Bulls vs. Vancouver Whitecaps - Saturday, Oct. 7, at 5 p.m. ET on TSN