UAE
New UAE coach Edgardo Bauza focused on long-term plan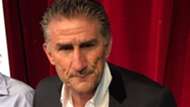 While insisting that he will try his best to guide the team to wins in their three remaining World Cup qualifying group games, new UAE coach Edgardo Bauza recognises the unlikelihood of their progress and is instead committed to a long-term plan.
Bauza arrived in Dubai on Tuesday night and was officially unveiled as the new coach of the national team on Thursday.
Having being sacked by Argentina after eight games in charge, he has been handed a two-year contract, which will see him through until the AFC Asian Cup in the UAE in 2019.
The 59-year-old takes over the reigns following Mahdi Ali's resignation after the defeat to Australia left UAE's World Cup qualification hopes in tatters. 
"First of all, it is a personal challenge," Bauza said. "We are all on the same page, the UAE FA President and me. We are not only thinking about the three games (in World Cup qualifying) but also long term. It is a long term project and that is what I have in mind as well. That's my main goal.
"I want to start work as soon as possible and try and improve the team for the initial term of two years. But we are looking beyond as everyone is on the same page and have the same aim."
With nine points from seven games, UAE are fourth in Group A of the AFC World Cup qualifiers behind Japan and Saudi Arabia on 16 points each and Australia on 13.
Technically, UAE could still secure the second qualifying spot if other fixtures go their way and while alluding to that fact, Bauza also noted that the scenario is very difficult.
"It is difficult but mathematically, it is still possible. For sure, we will try and give it our best. We will try to win all our remaining three games. Of course, it is difficult because it just doesn't depend on my team. It depends on other results. We can win the three of them but then you have to look at other results," he said.
Bauza is eager to get to work with the team and stated that he has already begun analysing the players from the side's qualifying campaign.
"I had done some research about the team before coming here but I now have some more knowledge about the team after watching three games from the qualifying campaign. From this, I will start working and try and improve the situation."