Mamelodi Sundowns
New Mamelodi Sundowns signing Toni Silva feels no to pressure to perform after Percy Tau and Khama Billiat departures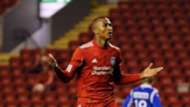 New Mamelodi Sundowns signing Toni Silva has insisted that he is not pressure to perform following the departure of Percy Tau and Khama Billiat at the Tshwane giants.
The Guinea-Bissau international, who was once on the books of English Premier League giants Liverpool FC, has arrived at the Brazilians with much expectations. 

Silva is expected to fill the void left by South African forward Percy Tau and Zimbabwe international Khama Billiat, who were instrumental in helping Sundowns win the 2017/18 Premier Soccer League (PSL) title. 
Billiat and Tau have since joined Kaizer Chiefs and Brighton and Hove Albion respectively. 
"That's not the pressure, that's the reality. People will have high expectations, and I am confident I will deliver. I had trouble with most of the clubs I was at because of agents. Agents have a lot of influence in the game. I don't like agents. I don't mind dealing with agents, but I don't like to have a contract with an agent," Silva said to IOL. 
The 24-year-old versatile forward, who is a well-travelled player having plied his trade in England, Turkey, Greece, Bulgaria and Portugal, stated that the subject of agents gets him animated. 
"When you have a contract with an agent, it's too difficult for you. Sometimes you get the right agents; the ones who have the power and connections, but then there are agents who don't have the power or connections for a player to move around. It's crazy what I have gone through. Since Greece, I decided to go without an agent. If you're an agent and want to make a deal with me, sure we can do it. You get your cut, I get mine, and then we can go our separate ways. I don't want to have a contract with an agent now," he explained.  
"If I have a contract with you, be honest with me," Silva said.
"If you make a deal with me, of course you know how much I am making. So why then do you have to hide how much you are making from that deal? When you work with someone, you must be honest with them. I don't mind you taking $2 million, and you can take anything that you want, but be honest with me because you know how much I am making. I want everything clear. That's why I am now my own agent," Silva indicated.

Silva, who does not have an agent, joined Sundowns from Greece as a free agent two months ago and he is looking forward to working with coach Pitso Mosimane at the Brazilians.
"I came here to visit first, because the coach is a good guy. He asked me to come here with my family and see the country first, to see whether I like it or not. I couldn't come with my family because my wife had just given birth, and it was hard to get them the necessary documents. I came alone. and I stayed for two weeks and even trained with the team too to get a taste of what's in store. I liked the city. I watched their game and I liked what I saw. I decided to sign," he said. 
Silva backed Tau to succeed at Brighton where he signed a four-year contract.
However, the former Sundowns talisman is set to be loaned out in Europe due to complications around his work permit. 
"He will succeed there if he continues working hard like he has been doing. He has a good head and he is talented. He will be successful if he also has a good agent who can help him there every step of the way. I didn't have that when I was in Liverpool. I didn't have an agent who would guide me on how to handle my business. Tau is a good player. He has the talent. I wish him all the best," he concluded.