Africa Cup of Nations
Nations Cup: Five reasons why Gabon fell at the first hurdle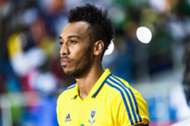 Gabon became only the fourth Nations Cup hosts to be eliminated in the first round when they were held 0-0 by Cameroon on Sunday, meaning they finished third in Group A on three points. A point would have been enough for the Panthers had Burkina Faso failed to beat Guinea-Bissau, but the Stallions' 2-0 triumph condemned the Central Africans to a first-round exit. In this feature, Goal pick through the pieces of Gabon's exit and explore where it went wrong for the Panthers.
Coaching upheaval: Regardless of the quality of your playing staff, it's never ideal preparation for a tournament to change your manager so soon before kick off. Yet that's exactly what Gabon did, dispatching with Portuguese boss Jorge Costa just months before the competition and replacing him, initially with Jose Antonio Garrido, before appointing Jose Antonio Camacho in his stead. Changing coaches so late ahead of the Afcon has worked for other nations in the past, but it's always a risky strategy…and didn't pay off!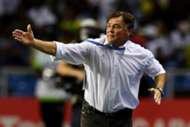 The wrong choice of boss: Not only did Gabon twist and appoint Camacho 43 days before the competition began, but the jury's also out on whether the man they turned to could ever have been a success. Admittedly, he has experience of major international tournaments—he oversaw Spain's campaign at the 2002 World Cup—but unlike foreigners like Claude Le Roy and Alain Giresse, he has no exposure to the African game. Reports that language problems in the camp also affected the hosts' build-up were far too easy to believe.
Injuries: It's perhaps something of a feeble excuse, particularly seeing as many sides at this tournament have been hit by injury concerns, but it doubtlessly affected Gabon in a big way to be without three first-teamers for their decisive match against Cameroon. Indeed, actually drawing with the Indomitable Lions isn't such a bad result considering the Panthers were without Merlin Tandjigora, Johann Serge Obiang and Mario Lemina. The Juventus man also missed the second match after being replaced in the first, and we never got to see his true class at this Afcon.
Pierre-Emerick Aubameyang muted: It's almost been forgotten that Aubameyang actually scored two in three games in this Afcon, a decent return, and he won the penalty to equalise against Burkina Faso. However, his goals perhaps belie a series of showings where he hardly played an integral part in the action for the hosts, often appearing disinterested and sulky. Surely, he was also affected by his horror miss early in the game against Cameroon—he arguably never truly recovered from this, and surely didn't do himself justice here.
Did politics affect the players?: On the ground, it's hard to ignore the fact that this Afcon is being played upon a landscape of political discontent towards the regime, with many Gabonese people unhappy that their government have invested such resources in the tournament instead of the national infrastructure. While many turned out for the decider against Cameroon, large swathes of the crowd began pouring out of the ground with over 10 minutes still to play, and attendances were mixed for the hosts' other games. Did this lack of overwhelming support and fervour ultimately affect the players?