Malaysia U19
NFDP boys in Hodak's long term plans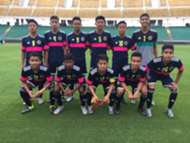 ---
BY        ZULHILMI ZAINAL       Follow on Twitter
---
Newly-appointed Malaysia U19 head coach Bojan Hodak has remarked that the youth players under the National Football Development Programme (NFDP) will figure in his long term plans.
On Friday, Hodak told Berita Harian that he was shocked to find out about the lack of exposure given to youth footballers in the country.
Speaking to Goal at the Kuala Lumpur International Airport on Saturday just before he departed for Yangon, Myanmar with his Malaysia U18 charges for the 2017 AFF U-18 Youth Championship, the Croatian expanded on his revelation.
"When TMJ (Malaysian FA president Tunku Ismail Sultan Ibrahim) called me, he told me that the problem with the team is that these boys were not given exposure, this generation.
"In overall, the problem with the under 19 team in the past is that nobody really cared much about youth development, and this is the biggest problem in Malaysia," he said.
When asked about his plan to mitigate this, the former Kelantan and JDT head coach said that he plans to bridge the gap between the national team set up and the players developed by NFDP.
NFDP, which is run by the Malaysian Ministry of Youth and Sports, scout and train boys aged between 12 and 17 all over the country, under technical director; former national player and Bayern Munich youth coach Lim Teong Kim.
"NFDP works at the grassroots level but when these boys become teenagers, there's nothing (for them). I think the first batch of trainees are now under 16 players, and previously players aged 17, 18 and 19 did not get much exposure.
"This is what TMJ wants to do, because in Europe 90 per cent of first team players have trained under youth development when they were young. So TMJ wants to focus on youth development. He gave me a two-year contract and told me what he wants to focus on," explained Hodak.
But he concedes that his plans with NFDP are not for the immediate future, and will focus for now on the under 19 national team.
"For me, my current focus is on the AFF U-18 Youth Championship. This tournament will help us identify players because training can show only so much. But in the end playing in matches under pressure is when players show their real character; who can win the game and who will cave in.
"This will give us a better picture ahead of the tournament in November, the 2018 AFC U-19 Championship qualification in South Korea.
"Also, when we come back I'll attend the President's Cup and Youth Cup quarter-finals, and arrange (the centralised training camp) earlier in October so that we will have more time with the boys.
"Especially because some of the teams will completely stop training and release the players after the quarter-finals as they cannot pay (the youth players' allowances)!" he noted.
Malaysia have been drawn in Group A alongside 2016 runners up Thailand, Timor Leste, Laos, Cambodia and Singapore. Meanwhile Group B will be contested by Vietnam, Brunei, Indonesia, the Philippines, hosts Myanmar and invitational team New Zealand.
The top two teams from each group will meet in the single-legged semi-final stage, and the winners in the semis will meet in the final match. In the previous edition, Malaysia's campaign ended in the group stage, finishing third in Group A behind Vietnam and Timor Leste.
Malaysia's campaign will begin against Laos on 4.30pm Malaysian time September 4 at the Aung San Stadium. They will then face Singapore (September 6), Timor Leste (8), Cambodia (10), and Thailand (12).