Opinion
#MTNFootballClinic: Arsenal conclude three day coaching clinic in Lagos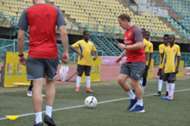 It was three days of intensive football knowledge sharing as Nigeria's largest telco, MTN Nigeria in collaboration with top flight English Premiership team, Arsenal organised a football clinic for football coaches and children between the ages of 9-13.
The clinic held at the Teslim Balogun stadium saw a contingent from Arsenal FC led by the club legend, Ray Parlour taking over 50 participants through modern football techniques.
Also present was  head coach, Arsenal Soccer School, Simon McManus; assistant coach, Arsenal Soccer School, Carlan Edgar and the partnership manager, Ryan Whelan, were in charge of the technical delivery and implementation of the 'Play the Arsenal way'.
The sessions saw exchange of coaching techniques and methodology between the Arsenal and local coaches. The topics from the training sessions ranged from both practical and theoretical approaches and also included the engagement of football enthusiasts within the ages of 9 and 13 as part of the workshop practical.
Commenting on the coaching clinic, General Manager, Enterprise Sale, MTN Nigeria, Adekunle Adebiyi stated that: "We are happy about the impact we have been able to make in the past few days. Football is important to us as a brand and to our subscribers. We are delighted to have been a part of the coaching clinic and we are sure the coaches have been able to learn new skills."
Also speaking on the initiative, three-time English Premier League winner, Ray Parlour said: "Our aim is to deliver bespoke Arsenal-themed coaching programmes strongly hinged on the philosophy of producing an autonomous supportive environment that helps players adopt a growth mindset."
The football clinic is part of the exciting benefits of the strategic partnership struck earlier this year by the telecoms company, MTN and the London based club, Arsenal FC.