Indian Super League
Chennaiyin FC co-owner MS Dhoni credits advent of ISL for youth success!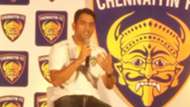 Former India cricket team captain Mahendra Singh Dhoni has credited the Indian Super League (ISL) for having inspired youngsters across all age-groups to take up football. He was speaking on the success of the India junior teams earlier this week where they defeated Argentina and Iraq in the U20 and U16 categories respectively. 
The co-owner of reigning ISL champions Chennaiyin FC felt that the ISL gave Indian players a taste of high-level football which has helped them push on while inspiring young kids to take to the sport.
"ISL started a few years ago and it gave the Indian players a chance to rub shoulders against some of the best players in the world. Some of them were not at their peak when they came here, but it gave the Indians a benchmark as to where they need to be. It pushed them to set the benchmark slightly high. The first edition of ISL was different and in the second season, teams improved," Dhoni said in Mumbai. 
"All the leagues are raising the standard of sport in our country and slowly you will get the desired result. It is not just about the people who are playing the ISL, but it also encourages the 16-year-old, 17-year-old players to follow and play the sport." 
The 37-year-old also noted that talented kids need to go out and physically play the game rather than devoting themselves to video games. 
"There are youngsters who know football inside out. When I asked some of them when do they play football, they say that they play the FIFA game on PlayStation. You want them to go out and play," he said.
Dhoni also called for patience when it comes to investing and expecting results in any game, let alone football. "To grow a sporting culture, you need time. Often people get confused, but the (reality is), sports is not related to money. It is not about 'okay, I pump in 500 crores, next Olympics how many medals are we getting? You don't get it like that.
"You have the infrastructure, you have to provide the right time to the individuals who are playing the sport and then have to wait for it. It's a long-term investment," Dhoni said.