Manchester United
Mourinho urged by former Man Utd coach to 'close ranks' and stop fuelling criticism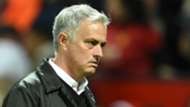 Jose Mourinho needs to "close ranks" at Manchester United, says Rene Meulensteen, with the Portuguese currently "fuelling" the criticism being levelled at the club.
The Red Devils have become the subject of unwanted attention on the back of a disappointing start to the 2018-19 campaign.
Three points and back-to-back defeats are all United have to show for their efforts after stumbling their way to a worst Premier League opening in 26 years.
Mourinho has cut a frustrated figure throughout the early weeks of the campaign, and across the summer during a quiet transfer window, but a willingness to air his grievances in public is considered to be having a negative effect on collective harmony at Old Trafford.
Former United coach Meulensteen told talkSPORT: "What he needs to do is use his energy from within, and not from the outside. At the end of the day, media and social media will always be there, and there's no point fuelling that.
"You need to sort things out from within and close the ranks, make sure players are starting to enjoy training again and believing in the way they want to play and perform.
"Sometimes in these cases when there's enormous pressure you are better not saying as much; just focus on within and make sure the next performance is spot on and the result is there.
"Then you can go from there."
United will be looking to get back on track this weekend when they make the short trip to Burnley.
Mourinho has declared himself to be "one of the greatest managers in the world" ahead of that game, but Meulensteen is looking for the Red Devils to start doing their talking on the pitch.
The Dutchman added: "At the moment they're not firing on all cylinders and they have to pick up, obviously.
"The start has not been brilliant; it's not been settled and there's a lot of negativity surrounding them at the moment.
"They need to sort that out as quickly as [possible], and there's only one medicine for it – winning.
"You have to win your next game and then try to win more games on the trot, and by the time the Champions League comes around hopefully they have picked up form."