Transfers
Morata open to AC Milan move but talks have cooled, says Mirabelli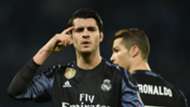 Massimiliano Mirabelli says Alvaro Morata has expressed an interest in joining AC Milan, but talks have cooled down as their search for a high-profile striker continues.
Get 6/1 odds on Leicester to beat Arsenal
CEO Marco Fassone confirmed on Sunday that the Rossoneri are looking to snap up one of Morata, Andrea Belotti and Pierre-Emerick Aubameyang in a busy transfer period for the club.
Speculation continues to circulate about the three centre-forwards, with Premier League champions Chelsea among others being named alongside each.
Although Milan sporting director Mirabelli says talks got off to a good start with Real Madrid's Morata, they are still looking at the likes of the Torino and Borussia Dortmund stars.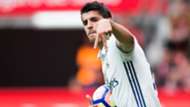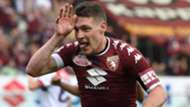 "We're sorry if Torino are annoyed about Belotti," he told Mediaset. "We have a number of strikers in mind and we are asking for information.
"I spoke with Torino and they know we are monitoring Belotti among others. We are acting with integrity and transparency: notifying the club before talking to the players.
"We have been looking at Morata from the beginning, and he has made himself available, then complications arose between the Champions League final and the emergence of different interested teams and things have cooled since. It can warm up again, but it will be on our terms."
Milan have spent big in the current transfer window, with the shock signing of Leonardo Bonucci from Juventus adding to the captures of Andrea Conti, Andre Silva, Hakan Calhanoglu, Franck Kessie and others.
One of their most significant deals, however, has been the contract renewal of Gianluigi Donnarumma after he rejected their initial offer.
Mirabelli, appointed as sporting director by Milan's new Chinese owners, is delighted the 18-year-old will remain at San Siro.
Diego Costa parties in Atletico shirt and mocks Conte
"From the beginning, Donnarumma's new contract was our 'mission impossible'," he said. 
"We inherited a player whose contract was expiring: the old management had failed, but it's excellent that he renewed, as many said the chances were zero.
"With Bonucci, it all happened in a flash. We haven't quite realised it yet.
"Alongside Ramos, he is one of the strongest defenders in the world in terms of technique and character. Over the years, he has learned to win.
"He is a very important signing from all points of view. To tear him from Juve wasn't simple. I can't find the words to express the feeling."