Super League
Mora puts reaction down to high emotion but stressed respect for Williams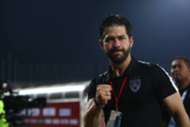 Johor Darul Ta'zim's (JDT) latest result in the Super League has drawn mixed responses from their own fans, even more so given the incidents after the final whistle which has caught the attention of many.
Following on from the criticism thrown by Melaka United's Eric Williams after the 1-1 draw between them and JDT, Benjamin Mora has released a statement through Johor Southern Tigers facebook page to address the issue.
"That's my parting words for another coach who has to take some humility"
The 38-year-old head coach of Malaysia explained that he's a young coach still with plenty to learn and sometimes emotions run high especially in the immediacy of a match. Mora went on to reveal his admiration for his opposite number.
"With all due respect, I would like to express that I am a young coach with a lot to learn, with much hunger to win and to work day by day. I have well defined dreams, goals and objectives that I would very much like to pursue alongside JDT."
"I would like to say to Coach Williams that I respect him greatly and I have a lot to learn from him, a coach with experience that has obviously won more things than I have; I only feel respect and admiration for him," said Mora.
"We need to learn how to close the game when we're winning"
However, the former Johor Darul Ta'zim II coach remained perplexed as to why such matter was brought to the attention during the post-match press conference. Such matters, as Mora deemed should only remain between the two individuals.
"I don't understand why such a small matter was brought up to the media by Mr Williams. It was something between us only. We do not have to involve any party," added Mora.
However, it wasn't all disagreement from Mora regarding Williams' statement. The Mexican was in agreement with the notion that Williams carry about anyone coaching JDT should always be winning, and he credits that to one person.
"Mr Williams said whoever coaching JDT can easily win. The statement is accurate because JDT's success since the Fandi Ahmad era until today is all thanks to HRH Crown Prince of Johor. The financial support given by His Royal Highness and His Royal Highness' plans played huge roles." 
"HRH Crown Prince of Johor is the individual behind every plan and infrastructure development of the club including signing all the players at JDT. In reality it has been the success of HRH Crown Prince of Johor as the leader alongside the management and players." 
"JDT coaches only need to put in a little effort because most of the work is done by the management to achieve success. I am very lucky to be at a club like JDT," explained Mora.
Starlet Dominic yearns for more minutes on the pitch with JDT
The focus now for JDT switches to the AFC Cup with the important ASEAN zone semi-final first leg coming up next week. The players have been given a short break after the Melaka match and are expected to restart training on Wednesday.
Mora knows there's more hard work to be done and he believes that with a strong mentality, JDT can grow even bigger and better - to achieve the targets that are set this season.
"As a young coach, I try to encourage to follow winning ideas with will, certainty and confidence in ourselves, but I know we still have a long way to go and grow as a team, step by step we are making our best effort. I wish to move forward with humility and hard work towards our goals and give many joys to the fans of Johor, they deserve the best," said Mora.