United States
Miazga has become the latest villain in the USMNT vs Mexico rivalry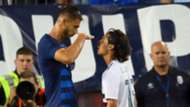 All is fair in love, war and derbies, a sentiment even more strongly supported by those fans who don't see much difference between war and derbies. Tough tackles, trash talking and supporters on each side hurling insults is par for the course in the most intense of rivalries, and the USA and Mexico has had its share of those things over the course of the past two decades.
That fiery atmosphere can also create heroes and villains for both sides. Players that that their fans love and that the opposition supporters grow to hate, whether because of the success they have in the rivalry or because of moments that are never forgotten.
Matt Miazga has cemented his status as a villain to Mexican fans after his trolling of El Tri players during Tuesday's 1-0 in in Nashville. First he mocked 5-foot-6 DIego Lainez for being short, then he sarcastically waved goodbye to Mexican midfielder Angel Zaldivar after Zaldiver's red card for a vicious tackle on Wil Trapp moments later.
El Tri fans and media were up in arms over Miazga making fun of Lainez, a speedy dynamo who is widely regarded as Mexico's most highly-coveted young prospect. Some even went so far as to try and call Miazga's gestures racist, or some referendum on American soccer's fascination with physical attributes over technical skill. The hot takes made the rounds, but Lainez and Miazga weren't buying into them.
And Miazga wasn't about to apologize for what he considered gamesmanship.
"It's normal. We talked a little smack. It's part of the game," the defender said after the match. "It's mental warfare. We got in their heads, they got a red card right after and you saw what happened. We took control and we won the game."
Miazga's emergence as a villain for the new generation of USA-Mexico comes at a time when the villains of the past on both sides have moved on. Rafa Marquez has retired, Oswaldo Sanchez is long gone and Jared Borgetti is a distant memory.
On the U.S. side, Landon Donovan was a player who enjoyed plenty of success against Mexico, enough to develop into a marquee villain in his own right, even though many Mexicans respected and admired him. The same goes for Michael Bradley, who has had plenty of big games against El Tri.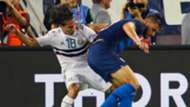 The reality is Mexico's villains have been far more deserving of the labels. Marquez's vicious headbutt of Cobi Jones at the 2002 World Cup is one of the worst moments in the history of the rivalry. Sanchez will long be remembered by U.S. fans for his petulant kick out at Eddie Johnson following a U.S. goal in a USMNT friendly win back in 2007. For the most part, American players haven't really done enough to merit villain labels in the series, and that may be part of the reason why Mexicans were so quick to jump on Miazga for what they saw as poor behavior.
USMNT fans clearly had no problem with Miazga's actions, and it's hard to argue against the idea that his gestures riled up the Mexican team enough to lead them to make a vital mistake. 
"Typical Miazga. I love that from him," Tyler Adams said of his teammate's troll job on Tuesday. "It gets the guys going. He's not afraid to not back down against someone like that. At the end of the day, your teammates see that and you want to keep going, you want to back your guy up and the next tackle is obviously going to be a tough one so it's another one that you want to win.
"I think that we were aggressive and at the end of the day I think we got in their heads a little bit. For us, we kept our composure to the best of our abilities. No stupid yellows at the end of the day and we moved on from it."
Mexico fans are going to have get used to seeing plenty of Miazga, who is emerging as a sure-fire starting central defender as the USMNT transitions into a new cycle. He was one of the team's best performers over the course of the two September friendlies and was outstanding against Mexico. He is a confident player, both on and off the field, and he has also shown that he isn't shy about mixing it up in the biggest of games.
If there's a drawback to what Miazga did, it has helped paint Lainez as the hero and victim among El Tri fans, and it probably gave the Club America starlet some confidence to see how the supporters responded. As much as he said he wasn't bothered by Miazga's actions, you can rest assured Lainez will be looking to punish U.S. defenses — and Miazga specifically — going forward. While he still may be young and raw, there is no denying Lainez's potential and the likelihood that he and Miazga will see each other again plenty of times in the coming years.
The next time Miazga faces El Tri, Mexico fans will surely boo him, but American fans will be sure to cheer a player who is not only emerging as a standout on the field, but as a hero in the eyes of U.S. fans excited to see a young player go at El Tri and a player who is also showing a willingness to be the kind of villain that will help keep the USA-Mexico rivalry as contentious as ever.