WTF
'Messi's a f***ing great guy' - Suarez heaps praise on down-to-earth team-mate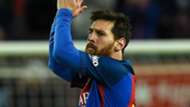 Barcelona midfielder Denis Suarez says that team-mate Lionel Messi is a "f***ing great guy," despite appearing unreachable to the outside world.
Messi is widely called one the world's best players alongside Real Madrid star Cristiano Ronaldo, leading many people to believe he is different than other footballers. However, Suarez said that the Argentine surprised him the most in the dressing room at Camp Nou.
How Barcelona could line up with Verratti
"I'd like to highlight Leo," Suarez told Sport.es. "From outside he can seem like an almost unreachable person, but in the dressing room he's just one of the team. He's a f***ing great guy."
Suarez signed for Barcelona for €3.5 million from Villarreal in July 2016, having returned to the club after a loan spell at Sevilla and one season with Villarreal. The midfielder played 26 La Liga games as Luis Enrique's side finished runners-up to Real Madrid.
The Spain international also praised namesake Luis Suarez, saying that all three of Messi, Neymar and Suarez were very accommodating to him from the time he started at Barcelona.
"The welcomed me from the first day and I have a great relationship with the three of them, although I get on best with Luis," the 23-year-old said. 
"I'm next to him in the dressing room and he's always supported me."