Nigeria U17
Mercy Idoko upbeat about Nigeria's qualification chances vs. Cameroon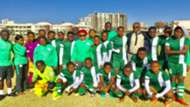 Nigeria U17 women forward Mercy Idoko believes her side can dismiss Cameroon in the first round, first leg of the U17 Women's World Cup qualifier on Saturday.
The Flamingoes squeezed past Ethiopia in the first round and will be hoping to earn a first leg advantage as they chase their sixth appearance in Uruguay later this year.
And the Confluence Queens star says they are fully prepared for the tough encounter at Samuel Ogbemudia Stadium against the central African, who piped Algeria 11-0 on aggregate.
"The team we have now is fully ready for the game and I don't think anything can stop from winning on Saturday," Idoko told Goal.
"Cameroon are not a threat to us because the coaches have prepared us enough for the match. The confidence within us is very high and we are determined to carry the day.
"We know for sure that it will be a tough match but we will make Cameroon understand that we are not Algeria and that they should also expect a different Flamingoes team.
"We are all motivated to make the country proud and we believe we have what it takes to beat them and qualify for this year's World Cup. 
"We hope to take determination and teamwork into the game. Our coaches are super wonderful with the training they've given us and we assure Nigerians that we are going to win."
A big win in Benin City will see Nigeria edge closer to secure one of Africa's tickets to the World Cup before the second leg in Yaoundé in a fortnight.