A-League
'No VAR during GF?'- Melbourne Victory opener avoids offside call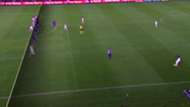 Melbourne Victory have scored the fastest goal in A-League grand final history but replays have sparked confusion as to why the VAR didn't intervene and cancel it out.
The goal scored by Kosta Barbarouses in the ninth minute, was the result of a Leroy George free-kick which found what appeared to be an offside James Donachie at the far post, who headed it back to the Kiwi winger.
Despite a brief delay as the VAR looked at the goal, the strike was allowed to stand with fans, players and even former coaches alike left confused as to why.
— Adrian Mierzejewski (@adrianmierzej86) May 5, 2018
— Kenny Lowe (@kennylowe10) May 5, 2018
— FOX SPORTS Football (@FOXFootballLive) May 5, 2018
— The Football Sack (@TheFootballSack) May 5, 2018
The VAR is meant to only intervene for 'clear and obvious errors' but those four words are getting more confused by the game.
At halftime in the decider, Newcastle Jets trail 1-0 with that controversial goal the difference at the break.