Kelantan
Melaka United secure services of Khairul Fahmi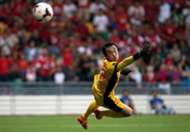 Melaka will be the beneficiary of the new regime at Kelantan as they moved to seal the signature of Khairul Fahmi Che Mat for the remainder of the 2018 season.
The contract is said to be for a period of six months, which will last Khairul until the end of the current season.
Under the guidance of head coach Eduardo Almeida, Melaka currently have three goalkeepers in their ranks in Fazli Paat, Zamir Selamat and Faridzuean Kamaruddin. 
Former PKNS and Perak keeper, Zamir has been the preferred number one for the head coach from Portugal for much of this season.
"Melaka need the service of Khairul based on his vast experience in both the domestic and international scene. Even though we have Zamir who has shown good performances, we still need Khairul as he can be a boost to the squad." 
"On top of that, now it gives us an option together with Zamir for the rest of the season," said Datuk Yusoff Mahadi to Berita Harian.
Khairul is one of the handful of players that were deemed no longer vital to the cause at Kelantan after their latest coaching reshuffle. 
Fajer Ibrahim is showing a penchant for working with younger players, thus Khairul along with Badhri Radzi are among those cast aside.