Mexico
Marquez decision will determine Osorio's Mexico's legacy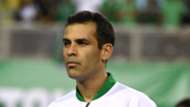 From the day Juan Carlos Osorio was hired, he's had a Rafa Marquez problem.
First, the issue was that the Mexico national team manager still needed to play him. There was no one to push the veteran out of the squad, so he continued on. Now the problem is if there's space for him on the 23-man World Cup roster. Mexico has learned to live without the 39-year-old, who hasn't played for the national team since he somehow ended up being named as a frontman for a drug kingpin by the United States Department of Treasury in summer 2017. His lawyers have been able to unfreeze bank accounts, Marquez returned to work and now, it appears, is in the clear to travel to Russia.
Osorio named Marquez to his 28-man preliminary squad Monday. It's a decision that will determine Osorio's legacy with the Mexico national team when he moves on from the post.
"I went to Guadalajara and talked to Rafael a week ago. I think it's obvious to everyone that Rafa is a 'footballing man' who you can debate with openly, he's a man with an extraordinary career and I'd say that as a human being he's an example as well," Osorio said in a news conference Monday. "The conversation was very open, very direct and I think it's clear that here Rafa's situation, like the rest of the players, is analyzed, debated with the coaching staff under strict sporting parameters.
"It's also worth saying that Rafa is working with (a coach in Mexico) because of his own choice. It's also clear that he has the desire to contribute to the national team. We believe, and hope that it's the same with everyone, the ultimate decision is because of what he can provide on the field. Outside the field, there's no debate that he can bring the most to the national team of any player, but we don't want that to be the only reason Rafa goes. We're sporting professionals. In our plan, we designed how we're going to face the World Cup strategically, and I think there's a space for Rafa in that."
You can understand the decision. With the hurdles cleared, how can he not take him to the World Cup? For one, players like Carlos Vela have come out to say that Marquez needs to be in Russia, even if it comes at his own expense. Such is the respect Mexico players have for Marquez. Even if he's not a big contributor to the squad, the gravity of Marquez playing in a fifth World Cup and tying the record would be a special moment. He certainly has a lot of experience and can provide the leadership that other squads that go to the World Cup so often find they're lacking in the locker room or at the base camp.
Then again ... how can he take him to the World Cup? Marquez wasn't a top 10 defender in Liga MX this season. Liga MX! A league known far more for its wild scoring and porous back lines than any sort of defensive dominance. He hasn't played for Mexico since last summer, in a Confederations Cup tournament that didn't even go all that well. Leadership? Marquez isn't even that vocal of a leader, and Andres Guardado not only has been to multiple World Cups (so have several players on a team that isn't all that stocked with youth), but he's still playing at a high level. He's the leader Mexico needs, though there are concerns about the injury he's coping with.
The decision Osorio has made will be the type of choice commentators talk about for years to come. Marquez isn't just one of the most famous athletes in Mexico, he's one of the most famous people in Mexico, putting together a playing career that may go down as the best ever by a Mexican player. If things don't go well for Mexico and Marquez in Russia, the critics will ask why he wasted a spot in the 23-man roster on this player who obviously is past his prime. If he didn't take Marquez, it's a lack of respect and a slap in the face to one of Mexico's all-time greats who critics will say could've helped Mexico past whatever round El Tri get to in the tournament.
Osorio is a bit of a romantic when it comes to the game. In his youth, he holed up in a room in Liverpool to watch the Reds train. He travels to speak with other managers at any chance he gets - sometimes despite criticism from those inside Mexico. You can tell from listening to him speak at news conferences and in interviews that he truly feels privileged to have dined with the likes of Sir Alex Ferguson, Marcelo Bielsa and Pep Guardiola. Denying Marquez his opportunity to make another tournament might not seem right to someone who is so deferential to the figures of football.
Yet, the manager also can be cutting in his analysis of players, especially those who have been below par in the Mexico shirt. America right-back Paul Aguilar has been ostracized after being part of the 7-0 defeat to the Copa America Centenario in 2016. Others who have been stars in the domestic league have been passed over even in call-ups that only involve domestic players. If he doesn't fit the manager's peculiar parameters, Osorio has no problem leaving out a player that everyone thinks should be included. Marquez appears to have passed the manager's tests.
The triumphant World Cup qualification campaign and heavy defeats to Chile and Germany at summer tournaments currently make up Osorio's legacy, but the decision he all but announced Monday will have a huge influence on how he's remembered. Even if success or failure in Russia doesn't hinge on Marquez, it's a choice that won't be forgotten.