Simba
Mapinduzi Cup Wrap: Azam to face URA in the finals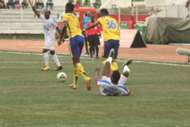 ---
Azam to face URA in the finals
---
Azam are set to face Ugandan side URA in the finals of the Mapinduzi Cup set to take place this Saturday.
Azam beat Singida United in the semifinals by a 1-0 win while URA beat Yanga in a penalty shootout that ended 5-4 with Zambian Obrey Chirwa missing the last penalty and sending the visitors to the finals.
---
URA WOULD HAVE PREFERED TO FACE SINGIDA UNITED
---
URA Head Coach Paul Nkata would have been happier meeting Singida United in the finals than Azam who they will play on Saturday.
Nkata believes a clash with Han van der Pluijm's side would have been a more interesting match as they didn't meet in the earlier stages.
URA who have en route to the finals won against both Yanga, Azam and Simba, all the Tanzanian top teams that where give a bigger chance by fans and pundits to win the cup.