Dries Mertens
Manchester United target Mertens is finally proving he can be key to Napoli's future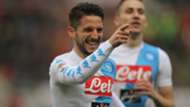 ---
COMMENT
---
Having been repeatedly underestimated due to his stature, Dries Mertens - a man now reported to be drawing admiring glances from Manchester United - has always been proving doubters wrong.
After Anderlecht and Gent cast him aside because he was too small, he found success in Netherlands at AGOVV and then Utrecht, impressing enough to have his former coach Georges Leekens come calling – this time with the national team. It was a victory for the Belgian and as he went on to become a formidable force at PSV, scoring 37 goals and 31 assists in 62 Eredivisie games, he seemed to have shown he could compete with the big boys.
Ronaldo artist defends sculpture
At Napoli, though, he has had similar frustrations. Having been stuck on the bench over the last two seasons, he seemed ready to call it quits, only to show his quality again and emerge as the star man as they fight Roma for the runner-up spot.
The season got off to a great start for Mertens, coming on as they trailed Pescara 2-0 and scoring twice. Making space on the edge of the box while surrounded by defenders, he lashed into the corner before rushing in to meet a cross and finish from close range for his second, making a point of glaring at Sarri in his celebration.
Still, it wasn't enough. Although he started the next game – seeing a shot hit the bar and bounce well for Arkadiusz Milik to finish in a 4-2 win over AC Milan, he was back on the bench afterwards.
The anger was hard to contain. "I'm basically only playing one of every two games," he told Het Nieuwsblad. "That's sometimes irritating. I like it when you're in good form, you keep going and everything works out well. With our busy schedule I understand you can't play every game, but one match in two is, I think, too little even if I have to accept that too."
He proved his point soon afterwards.
The turning point for Mertens came six weeks later when Milik's ligament injury struck, leaving Napoli thin in options up front. When Manolo Gabbiadini failed to inspire against Roma, Sarri turned to the Belgian to replace him for the last 30 minutes and he was up front days later, scoring in a Champions League loss to Besiktas. The following week, Gabbiadini was back in the No.9 role but was sent off, and so the winger was moved up as striker from the start against Empoli, seeing a dangerous performance rewarded with a goal.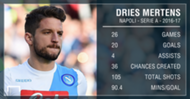 A dry spell followed in league games against Juventus, Lazio, Udinese and Sassuolo, but he bounced back with a neat assist for Callejon before showing his deadliness in close quarters by taking it closer to a group of defenders and smashing it in as they beat Benfica 2-1.
From then on, he was off. A few days later he scored a hat-trick, then four against Torino – humiliating Joe Hart with an incredible lob which drew comparisons with Diego Maradona and earning the admiration of the icon himself. He is now on 20 Serie A goals, two behind Andrea Belotti in the race for the Capocannoniere, while he has four assists too. This is the most involved he has been for Napoli since his first season, in which he scored 11 and set up five. Perhaps nothing illustrates his influence more than the fact no one at the Stadio San Paolo misses Gonzalo Higuain.
"I'm amazed only by his role, given that his quality has never been in doubt" club legend Paolo Cannavaro said. "Other than as a false nine, he's a real quality striker."
Even president Aurelio De Laurentiis has put a great deal of stock in the star. "In terms of quantity, Higuain is better because he scored more - but in terms of quality, assists and altruism, I choose Mertens," he told Sky Italia. "He is far more generous than Higuain. He never gets grumpy at anyone else's errors, only for his own."
Mertens has always had the quality to shine in Italy. His pace, skill, close control and directness have been the key components of his game from the beginning, but at 29, he is more refined. Spurred on by his determination to prove his worth once and for all at Napoli, he has looked ferocious at times.
He has transferred his qualities to the central striker role well. He has shifted his focus accordingly, becoming a consistent threat on goal. Only Ciro Immobile and Edin Dzeko have had more shots than he, and only the latter has more on target. His rate of 90.4 minutes per goal is better than any other star in the league – Andrea Belotti is closest with 102.77, further outshining Dzeko on 113.52, Mauro Icardi on 120.85, and Higuain's rate of 116.53.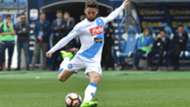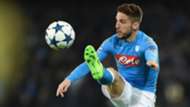 Napoli's playing style suits him well. That they have dealt with the loss of Higuain so well is down to a fast, technically sound attack and a well organised team that looks devastating when on form. It all combines well for Mertens to shine with his dazzling dribbles and fine finishing.
With Milik making a few appearances off the bench following his recovery from a ligament injury, Mertens finds himself under pressure again, but he has a lot going for him. The Poland international has seven in 16 appearances in all competitions and offers a strong, tall presence up front. However, inconsistency still lingers for a developing striker in a disrupted first season in the league. Mertens has shown he can put the best defenders under pressure, having given Real Madrid a scare in the Champions League with a goal and a golden chance which hit the post.
When Napoli line up against Juventus on Sunday looking to maintain their fight for second place in Serie A, it is unlikely Sarri will opt for the €33 million star over the diminutive Belgian. He has come a long way and has seemingly shown once and for all that he can relied upon as a consistent star, but any lingering doubts can be buried by improving on his record of one goal in nine games against the Bianconeri.
Coutinho still mired in post-injury slump
While the two have not always had a good relationship, he has won over Sarri, too. "He's a great player who in the past didn't realise the quality he had at his disposal," he said. "My only problem is coaxing consistent performances out of him, because throughout his career he's always had dips after great moments. He must convince himself that he is world class."
It is hard to imagine that a man who once claimed Pamela Anderson fell in love with him at first glance struggles with such confidence issues, but it says a lot that he has persevered and reached a new level when his frustration seemed to be getting the better of him.
The links to Premier League and Chinese clubs have emerged over the course of the season, but an extension with Napoli seems imminent. With Milik lingering and looking to capitalise on any weakness as the season nears its end, Mertens must show he's here to stay by keeping up this form.