Serie A
Chiellini names Ibrahimovic as his 'most formidable' foe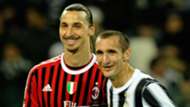 Giorgio Chiellini has hailed Manchester United star Zlatan Ibrahimovic as "the most formidable striker" he has ever seen.
The enigmatic Swede is currently enduring a rare low point in his career, with an untimely knee injury bringing his 2016-17 campaign to a close and forcing him under the knife.
Ibrahimovic has, however, vowed to bounce back stronger, after making a scintillating 28-goal start to life at Old Trafford.
Why did Henry flop at Juventus?
It could be that his path crosses with Chiellini again at some stage in the future, with the experienced centre-half full of praise for a man he has played alongside at Juventus and against for both club and country.
"I like coming up against great strikers, I've always liked to face the best," Chiellini told France Football.
"An example would be Zlatan Ibrahimovic, the most formidable striker I've ever seen. I often played against him in Serie A, and Ibra was the top.
"He's always made the difference wherever he's gone."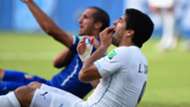 Another of the more formidable frontmen to have faced Chiellini down the years in Barcelona's Luis Suarez.
The pair were infamously involved in a coming together at the 2014 World Cup which resulted in Suarez being stung with a four-month ban for biting Chiellini.
The 33-year-old defender has, however, put the incident behind him and insists there was no bad blood between the duo when they were reunited for a Champions League quarter-final clash this season.
"Being bitten by Luis Suarez? It should have earned him a red card, which is what I was saying to the referee," added Chiellini.
"Afterwards though I felt no anger towards him, and I even thought the heavy suspension he got was a bit much. For me, what happened during the game stopped at the final whistle.
"When I saw him in the Champions League quarter-final I greeted him with no problem, I was only thinking about the Barca game."
With Juve having emerged victorious over the course of that two-legged tie, Chiellini's focus has now shifted to a semi-final date with Monaco and the wrapping up of what would be a sixth Serie A title for him in Turin.