Premier League
Man Utd slammed for 'disgusting' box prices by Lindelof's fiancee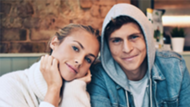 Victor Lindelof's fiancee has hit out at Manchester United over the "disgusting" cost to rent VIP boxes at Old Trafford.
Jose Mourinho's players are able to rent out luxury sections of the ground for between £23,940 and £81,600 across 2017-18.
7/1 for Man Utd and Palace to draw
Swedish blogger Maja Nilsson said she was frustrated that Man Utd didn't arrange special seats for players' girlfriends and their families unless the players rent a box at the stadium.
"The situation has changed for us since moving to Manchester," Nilsson said on podcast Livet pa Laktaren (Life on the Stand).
"Here the players have the option to rent a box and I'm not even going to tell you for how much but a disgusting amount of money.
"And if you don't buy one you're considered to be a loser. But having a box is wonderful because you have your own waiter."
Man Utd recently announced a record revenue of £581 million after releasing the figures for the 2016-17 season.
Lindelof joined the club from Benfica in the off-season for £30.75m, but has has yet to make a Premier League appearance.