Transfers
Man Utd or Man City move ruled out by Ajax youngster Dolberg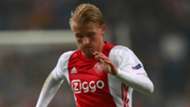 Kasper Dolberg has emerged as a hot prospect at Ajax but believes it is "too big a step" for him to join Manchester United or City at this stage.
The 19-year-old has become one of Europe's most sought-after talents following his exploits in Amsterdam.
Herrera names midfield role model
A 19-goal haul this season has brought him to the attention of leading sides across the continent, with a transfer scramble expected when the summer window opens.
Dolberg, though, feels he still has plenty of developing to do and is not yet ready to make the leap from the top of the Eredivisie to the top of the Premier League.
"No, it's too big a step to go to City or United now," he told FourFourTwo.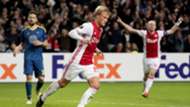 "It's important to keep on playing, as I don't know what could happen in the future.
"I have not got a dream league. It's important which kind of club is keen - in terms of playing style and also how it is at the club.
Keane cringes at Man Utd ambition
"You look at the whole package."
Dolberg has also been heavily linked with Everton and it may be that Ronald Koeman is the man to bring the Denmark international to England.
Speculation has suggested that Ajax will demand between £17-20 million for a prized asset.