Manchester United
'Man Utd & Man City will compete for Premier League' - Giggs backs Manchester clubs for title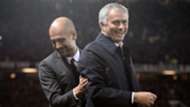 Former Manchester United winger Ryan Giggs believes the Red Devils will battle with local rivals Manchester City for the 2017-18 Premier League title.
The 43-year-old spent his entire professional career at Old Trafford, playing almost 1000 games for United, winning 13 Premier League titles and two Champions Leagues. The Welsh legend believes his former club had the best squad in the English top flight last term and that they will be strong enough this season to challenge for the title.
Get 10/3 odds on Man Utd to win Premier League
However, Giggs is worried about the strength in attack posed by City, and feels Chelsea's extra fixtures in the Champions League may help the Premier League become a two-horse race between the Manchester clubs.
"I can see United and City definitely contending for the league," Giggs told talkSPORT.
"It's Jose's second season with United. Last season they had the best squad and I think this year they've got the best squad again. They haven't necessarily got the best XI, but their strength in depth is huge.
"And City; towards the end of the season away at Watford they had Gabriel Jesus, Leroy Sane, Sergio Aguero, David Silva, Kevin De Bruyne. That front five is scary…and Raheem Sterling wasn't even on the pitch!
"It's Guardiola's second season in the Premier League, too, so they will be really strong. It'll be interesting to see how Chelsea cope with the Champions League, but I can definitely see United and City contending for the title."
'Fresh Pogba ready to excite at United'
United finished last season in sixth position, but won the League Cup and the Europa League, and have strengthened during the summer transfer window, signing Romelu Lukaku and Victor Lindelof.