NPFL
'Man like Udoji' – Adepoju, Kano Pillars and football world mourn Chinedu death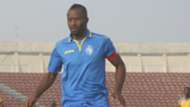 Kano Pillars defender, Chinedu Udoji died on Sunday and football lovers across the globe mourned the tragic news.
Udoji, who captained Enyimba to win the 2014 Federation Cup and 2015 Nigeria Professional Football League titles, passed away after getting involved in a ghastly auto crash.
Tributes from fans all around the world have flooded in for the defender, with Goal highlighting contributions from Twitter.
My fingers shiver as I type my tweet... Rest on Chinedu Udoji, may God grant you eternal rest. 😭😭😭😢😥 pic.twitter.com/CiWiangPD0

— Mutiu Adepoju (@MutiuAdepoju8) February 19, 2018
Tragedy hits Pillars as we lost Chinedu Udoji after a terrific car accident in Kano. The untimely death Chinedu Udoji is shocking and a great loss to the football family. pic.twitter.com/1VhZEPCmpG

— Kano Pillars FC (@pillarsfc) February 19, 2018
The demise of @pillarsfc defender Chinedu Udoji comes as a rude shock to us this morning. Our thoughts and prayers are with his family and club. May his soul rest in peace. #RIPUdoji pic.twitter.com/dFWzMKP350

— The NFF 🇳🇬 (@thenff) February 19, 2018
We are distraught at the news of the passing of club legend and former captain, Chinedu Udoji. Our commiserations are with his family at this time.#RIPUdoji #AnElephantSleeps #CaptainLeaderLegend pic.twitter.com/RdCiNR7eIK

— Enyimba FC (@EnyimbaFC) February 19, 2018
Rest on Chinedu Udoji, a world-class defender who never played for the Super Eagles

— Shina Oludare (@sportingshina) February 19, 2018
GONE TOO 🔜

We are deeply saddened by the tragic death of one of NPFL's finest defenders. Our thoughts and prayers are with Chinedu Udoji's family, Kano Pillars & #NPFL clubs #RIPUDOJI pic.twitter.com/qLo1QxM7Lv

— League Management NG (@LMCNPFL) February 19, 2018
We commiserate with @pillarsfc following the demise of centre half, Chinedu Udoji. Stay strong in these trying period pic.twitter.com/4ZmVUFnwN6

— Rivers United FC (@RiversUnitedFC) February 19, 2018
Chinedu Udoji was meant to travel to Kaduna today to see his new born baby which eventually he never saw- Malikawa This world is cruel. RIP

— Phemmy Adetula (@phemmytula) February 19, 2018
The Management of Rangers sympathize with @pillarsfc & F
family Of Chinedu Udoji on the death of the player in a tragic car crash.

— Rangers Int. FC (@RangersIntFC) February 19, 2018
The gift of life is the most precious gift from God..

Woke up to a sad news this morning as Chinedu Udoji former ENYIMBA captain and now with Kano pillars(Played in the 1-1 draw in kano yesterday)died early this morning in a car Crash..What a life!!

R.I.P Chinedu Udoji

— omodia okhueleigbe (@omodia4real) February 19, 2018
Chinedu Udoji
I've got no words. Absolutely none.

Just a rude reminder of how frail this life is. And how nothing else matters when the call from beyond comes!

Skippo!
Rest in Peace...!

— Sam (@bigsammy08) February 19, 2018
This is so sad!!! My heart can't take no more...😭😭😭😭

Rest in Glory with the Lord Chinedu Udoji#RIPUdoji

— Kelechi Nkoro (@K1Says) February 19, 2018
Man like Udoji.#RIPUdoji pic.twitter.com/wplRnmZe7j

— Modo Victor (@modovictorekene) February 19, 2018
Chinedu Udoji was named Man of the Match yesterday. Today, He is the Man of Yesterday.

High time, we started understanding the true concept of LIFE! #RIPUdoji

— MikeThePundit (@MichaelImianvan) February 19, 2018
So sad to hear about the passing of Kano Pillars defender, Chinedu Udoji. Just watched him on tv yesterday playing 90 minutes against his former team, Enyimba. This life! I wish his family strenght and grace.

— Kelvin C. Omuojine (@KCJine) February 19, 2018
Rest on Chinedu Udoji A.KA. Pepe.Captain Fantastic.The NPFL will miss u my broda.May God grant ur family the grace to bear this great loss pic.twitter.com/P5wFBG0Auz

— KelvinJesus8 (@ItoyaKelvin) February 19, 2018
Sad sad one. Chinedu Udoji is dead. Thoughts with his family.
The Enyimba players will be shocked. He died in a car crash after visiting his former team mates.

— Solomon Fowowe (@SolomonFowowe) February 19, 2018