AFF Championship
Farizal believes the Thais will feel the weight of pressure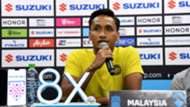 It was an unexpected easy ride for Farizal Marlias in the first leg of the 2018 AFF Suzuki Cup semi-final against Thailand with the opponent's goalkeeper in Chatchai Budprom being the more worked keeper comparatively to deny wave after wave of Malaysian attacks.
An unusual scene for a Malaysia versus Thailand match but Farizal is taking nothing for granted. The 32-year-old goalkeeper had the best view in the house at Bukit Jalil National Stadium last Saturday to see a Thailand side that very much sat deep hoping to frustrate Malaysia.
However, the keeper who is playing in his fourth AFF Championship after initial ones back in 2008, 2012 and 2014; is keen to point out that the first leg result only served to put even more pressure on The War Elephants.
"Both teams have equal chances. We know it's not going to be easy to get a result away but I'm confident the boys can put the pressure on the home side. What we saw in the first leg was positive signs in terms of how we played and I hope that in these few days we can improve on our attacking and in particular, our finishing."
"It was surprising to see the way they play. We know that Thailand are not a defensive team as they are technically good. So maybe it's a tactic from the coach and the players have to follow the given instructions. 
"Maybe they will change slightly because they are playing at home. Maybe they will be more open because they need to find the goal. So the pressure won't be on us," Farizal told Goal.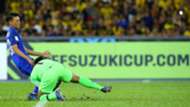 That said, while not required to make a single save against Thailand at home, Farizal was involved in critical moments of the match. With Thailand sitting deep, that meant that Malaysia's back line kept moving further forward and on a few occasions was almost caught out when their opponent went on the break.
Forced to rush off his line and cover the players in front of him, Farizal had to be on the alert to pick a good starting position and sweep like how Manuel Neuer often does for Bayern Munich. A role that can be disconcerting to some but Farizal takes it all in his stride and feels rather comfortable doing so.
"That is modern football these days. A lot of teams like Manchester City and Barcelona are playing that way. We all know Neuer does his fair share of sweeping behind his defence. So it's not a big problem for me. It's same like what I'm used to at my club, Johor Darul Ta'zim. Just that I need to be really focus to play this kind of football," added Farizal.
Follow Goal Malaysia on Instagram