AFF Championship
Substandard field greets Malaysia on first day training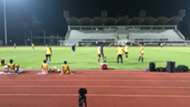 The Malaysia national team arrived in Bangkok on Monday 3 November very high in confidence after a morale boosting performance in the first leg of the 2018 AFF Suzuki Cup against Thailand but were immediately brought back down to earth following arrangements in the first day itself.
When Cheng Hoe arrived at the training facilities arranged by FA of Thailand at Insi Chantharasathit Stadium at the Kasetsart University, they were in for a shock and their training plans were thrown into a turmoil.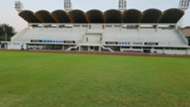 The pitch had no markings at all which meant that the players could not see where the out lines nor penalty box line are. Worst still was that one half of the pitch was in deplorable condition that Cheng Hoe decided that he was only able to use the better half of the pitch to train.
Even then, that side of the pitch were sandy at certain parts particularly the goal area and the penalty spot. The stadium's design meant that viewers from outside the stadium could see clearly what's happening on the pitch which negated the possibility of any tactical work.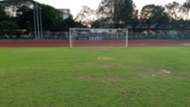 While the distance from the hotel where the Malaysian team stayed to this Insi Chantharasathit Stadium was approximately 15km, Malaysia's training slot was 6pm and couple that with rush hour traffic in Bangkok, even with a police escort it took the team 40 minutes each way.
Goal understands that there's the availability of a new private pitch only 400m away from where the team is staying, yet arrangements were made to make it difficult for Cheng Hoe. Today, the team will be doing their final preparations at the Rajamangala Stadium itself where the head coach could be looking to squeeze two sessions of work into one.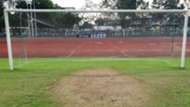 Definitely not the kind of preparations Malaysia want ahead of the crucial second leg against Thailand with the tie firmly poised at 0-0 with both eyeing a place in the final of the 2018 edition where Vietnam are the likely opponents.
Follow Goal Malaysia