Super League
MSL2017 Worst Flops: #3 Norshahrul Idlan Talaha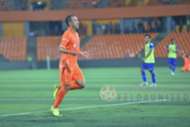 ---
BY        ZULHILMI ZAINAL       Follow on Twitter
---
Goal counts down the biggest major flops in the top competitions of the 2017 Malaysian football season, and here's number three.
The number four player in this list, Selangor's Francis Forkey Doe left Felda United after the 2016 season ended to join the Red Giants. The man who is on number three, Norshahrul Idlan Talaha signed with the Fighters around the same time, from the relegated Terengganu.
And just like the Liberian, the main criticism towards the forward is his failure to play a key role in the team, especially with his reputation as a former Malaysia international.
But just as what happened with Doe at Selangor, Norshahrul's year began rather promisingly. He scored the only goal of their season opener win against PKNS FC, and another in their 3-1 defeat to JDT.
However things quickly went south for the Fighters and Norshahrul. The defeat to JDT was followed by six winless domestic matches which included a three-match losing streak. 
A major reason behind this poor form is the Fighters' pre-season foreign signings, who proved to be inadequate in producing the goals. And Norshahrul, instead of stepping up to the plate as one of their experienced players, drifted along with the team.
When head coach Azmi Mohamed was replaced by former Malaysia boss Sathianathan Bhaskaran just two months into the season, the latter brought in former Fighter Thiago Augusto Fernandes in the mid-season transfer window, and that solved their woes. Felda started winning matches again and would go on to end the season in third place, and reach the Malaysia Cup semi-finals.
Sadly unlike his team, Norshahrul showed little improvement in the remainder of the season following Sathianathan's arrival, beyond scoring two more goals in the Super League, for a total of four goals out of 19 league appearances. He did not find the back of the net even once in the Malaysia Cup.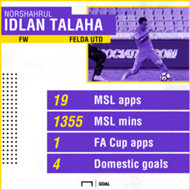 Surprisingly, after the season concluded Norshahrul was reported to have signed for Pahang, who finished as league and FA Cup runners up in 2017.
From today until 28 November, @Goal_MY will be counting down three top five lists for the 2017 Malaysia Super League. Follow our Twitter account and make sure you don't miss it! pic.twitter.com/Ao3MpGkydE
— Goal Malaysia (@Goal_MY) November 24, 2017
Check out #5 and #4 in the MSL2017 Worst Flops, and wait for #2 tomorrow!
In the meantime, read our MSL2017 Best Players and Most Promising Players lists.