Malaysia
Malaysia line up 6 friendlies in lead up to AFF Championship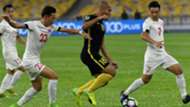 FAM revealed that they have confirmed five international friendly matches with one more pending confirmation as Malaysia gear up towards the 2018 AFF Suzuki Cup.
Tan's boys are expected to gather in late June or early July to face Fiji at KLFA Stadium in Cheras on July 5. With the FA Cup competition still on-going during that period, there's every chance that the squad to face Fiji will not be including the players from teams involved in the FA Cup final.
Malaysia v Fiji  (July 5) - KLFA Stadium
Chinese Taipei v Malaysia (September 7) - Taipei
Cambodia v Malaysia (September 10) - Phnom Penh
Sri Lanka v Malaysia (October 12) - Colombo
Malaysia v Kyrgyzstan (October 16) - National Stadium Bukit Jalil
FAM are also in the midst of confirming one more fixture that is planned for November 3 to be played in Kuala Lumpur which would be the final preparation game before the start of the AFF Championship where Malaysia will play Cambodia in the first group fixture on November 8.
Ironically enough, FAM have also decided that a rehearsal of that first group fixture is one of the six international friendlies planned. No doubt to get a more in-depth look at the Cambodian team as well as the ground arrangements necessary there.
Another interesting thing to note is that all but one of the teams selected to play are higher in the FIFA ranking that Malaysia who are in 171 spot - Fiji (165), Chinese Taipei (123), Cambodia (166), Sri Lanka (200) and Kyrgyzstan (92).
Without taking the rankings into context, it does look winnable fixtures for Malaysia and that if Tan can achieve positive results in most of the matches planned, there's no doubt that Malaysia's ranking would rise steadily towards the end of 2018.