Luke Brattan
Luke Brattan backs his form for Socceroos World Cup call-up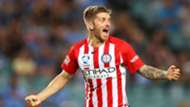 In-form Melbourne City midfielder Luke Brattan believes his performances this A-League campaign should put him in the frame for Socceroos World Cup selection.
The 28-year-old has excelled at City under Warren Joyce, relishing a more dynamic midfield role and finishing second in the Alex Tobin Medal to Sydney FC star Adrian Mierzejewski.
When asked if he was hoping to catch the eye of long-term Australia coach Graham Arnold and be a part of the 2019 Asian Cup defence, Brattan instead indicated his ambition to represent the green-and-gold at June's World Cup, and is adamant his form is good enough to put himself in the frame for selection.
"Hopefully I can make [the Socceroos squad] before Arnie gets the job. I'm still ambitious about making the World Cup squad," Brattan told Goal.
"I've been playing pretty consistently, playing well, which I don't often say about myself. I think it's been proven with the Alex Tobin medal [placing] that I've had a good season.
"I know I can do a lot better and there is still another level in me. Hopefully I can continue the next couple of games, play well and help [Melbourne City] to win a championship.
"Socceroos [selection] is in the back of my mind, but the main goal is to win a championship and get to the final.
"Hopefully by doing that I can get my name in the [World Cup] squad and go from there."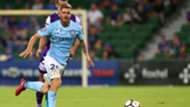 Brattan is yet to be capped for the green-and-gold despite sitting on the substitutes bench for four Socceroos matches - most recently during the 2-2 draw with Thailand in November 2016.
His 2017-18 A-League campaign with City has arguably been his best and most consistent, looking fitter and more agile than ever before, and the player himself believes the transformation has come from the work done with Joyce in pre-season.
"[It was] a lot of running. Pre-season was really hard. Obviously I can do the footballing side but when I'm fit and feeling good the game is a lot easier," Brattan said.
"I think I put my form down to staying healthy and the team playing well too. I do my job for the team and the rest takes care of itself.
"The culture that Warren brought in was definitely hard working, everyone's honest and taking responsibility for themselves and the team.
"We're a very tight knit group and hopefully that works in finals to our advantage."
City take on Brisbane Roar in an elimination final at AAMI Park - a club Brattan won three championships with between 2008-15.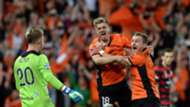 He feels as if popular opinion wants City to fail and this is being used as a driving factor by the group to achieve silverware this season.
"We know everyone is probably against us and doesn't want to see us succeed but that's only adding fuel to our end goal," Brattan said.
"A couple of the Fox Sports panel were tipping Brisbane to beat us. That's fine with us.
"I think with the way we are playing at the moment, apart from obviously [the 2-1 loss at] Wellington, we've been keeping a lot of clean sheets and we're scoring a lot of goals.
"Focusing on our performance is first preference. We know if we perform well then the result will take care of itself."
City Football Group, the owner of Melbourne City, won their first trophy of the season last weekend when Manchester City claimed the English Premier League title.
Brattan, who is on loan to Melbourne City from Manchester City until the end of the campaign, was amused when asked about his 'title celebrations', with several teammates bantering about his situation.
Congrats @lukebrattan. #eplwinner pic.twitter.com/Hv0O4Dfzyu

— Scott Jamieson (@ScottJamieson) April 16, 2018
[The Manchester City title] was fantastic mate. Nah, it was good banter. Good from Scotty [Jamieson]," he laughed.
"It's a great achievement for the club and I'm happy for them."