Transfers
Lukaku: Pogba the happiest I've ever seen him when he signed for Man Utd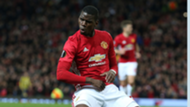 Romelu Lukaku has revealed just how delighted Paul Pogba was the moment after he had signed the contract that meant he was a Manchester United player once again.
Pogba completed a world-record return to Old Trafford back in August, insisting at the time that he had returned "home" after having previously left the club for Juventus.
Mou: Europa League 'important' for Man Utd
The 23-year-old has yet to consistently produce his brilliant best in his second spell at United with many having criticised his performances given the fee the club paid to sign him.
But Lukaku, a close friend of the Frenchman, has stood up for Pogba and revealed that the former Juve star was thrilled to seal a "dream" return to the club.
When asked if Pogba is an arrogant person, Lukaku told Belgian magazine Sport/Foot Magazine: "He's anything but that. A lot of things are said about him, but I was there at the hotel when he signed for United.
"There were maybe ten people surrounding him with briefcases and contracts inside.
"When everything was signed, and I've known Paul for many years, I've never seen him with that look on his face. I'd never seen him so happy. This return to United, it had nothing to do with money. 
"It was a relief, a real happiness for him. We only spoke once about football during our holidays this summer, when we were at a pool in LA, and he was telling me about his dream to return to United. That's when I understood what it meant."