Manchester United
'Lukaku disappears too often for a £75m striker' - Man Utd not getting full value, says McGrath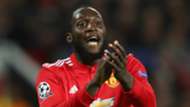 Romelu Lukaku disappears too often to be a "top striker", says Paul McGrath, with Manchester United's £75 million frontman needing to "bully" opponents.
Jose Mourinho invested considerable faith in the Belgium international while in the market for a proven goal-getter.
He has seen Lukaku contribute 22 efforts to the Red Devils cause this season, but there have been dips from the burly 24-year-old and further accusations of being a flat-track bully.
An important effort against Chelsea in his last outing helped to quieten those who continue to question his record against top six sides, but McGrath believes United need more from a physical presence who struggles to impose himself like the best in the business.
The former Red Devils defender told the Irish Independent: "He needs to be a bully on the pitch.
"He is so strong physically and I would like to see him brushing defenders aside a bit more, using the physical attributes he has at his disposal. He should be impossible to defend against, but he can disappear from games at times and that is not what you expect from a top striker.
"The trouble for me is that he doesn't get involved in the physical side of the game enough and if I was defending against him, I'd fancy my chances of knocking him out of his stride early in a game.
"It seems to me at times that if things don't go his way at the start of a match, he doesn't have the fighting spirit to bounce back and that would be a concern for me. Strikers need to take knocks and come back with goals and I want to see more of that from Lukaku against the top teams.
"Everyone talks about his poor record against top quality sides and that must be in his mind when he goes into those big games now, so hopefully he can banish that in the final few weeks of this season."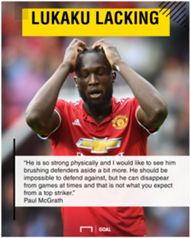 While calling on Mourinho to drag more out of Lukaku, the United boss has also been urged to give Marcus Rashford regular game time – with the England international having been denied a Premier League start since Boxing Day.
A Red Devils legend added: "Clearly Rashford is not starting as often as he wants and it must be a nightmare for the kid.
"Then he will look at Alexis Sanchez coming into United in January and that will push him further down the pecking order.
"It is the same for Anthony Martial, who I am a big fan of. Sanchez's arrival makes it tough for him to get into the United team as they are not too many places left in the attacking positions if the new man starts every game alongside Lukaku.
"What I would say is that both Rashford and Martial could benefit from training with Sanchez every day because even if he hasn't quite hit top form for United yet, this guy is a world class performer and young players can look at what he does and appreciate what is needed to get to the top of the game.
"Sanchez's workrate and eagerness to get involved in the game is an example to any youngster and when you combine that with his talent, he is one hell of a player. He will come good for United and Mourinho needs to find a way to make sure Rashford and Martial are also part of the club's future as they are too good to let go."