Manchester United
Mourinho: Lukaku & Ibrahimovic won't play together again until they are at their best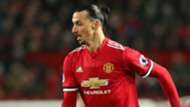 Jose Mourinho has declared he will not start Romelu Lukaku and Zlatan Ibrahimovic together again until they are both "at their best level."
Lukaku, after joining from Everton for £75 million, spent much of the season as United's only real centre-forward option while Ibrahimovic recovered from tearing his anterior cruciate ligament in April. 
The tandem were paired together in Manchester United's match with Burnley, Ibrahimovic's first start in the Premier League since his return. However, the duo struggled in a poor Red Devils first half that saw them down 2-0 at the interval. 
Ibrahimovic came off at the half with substitute Jesse Lingard scoring a second-half brace to pull United level for the 2-2 draw at Old Trafford.
That has only led to further questions about whether the two forwards can play alongside one another, and while Mourinho did not rule out using the pair in partnership again, he did not sound as if it is something he will try in the near future. 
"For it to happen, they both need to be in their best moment and they are not," Mourinho said.
The Red Devils boss emphasised that both strikers are dealing with issues that are limiting them — Lukaku with fatigue and Ibrahimovic is still recovering from a serious injury. 
"Zlatan is a man with an incredible injury and an injury that a 20-year-old young man would suffer with. Imagine a man of 36 years old and so many miles in high level football…"
However, while he refused to rule out using the pair together in certain games in the future, the Portuguese is prepared to try the experiment again.
Mourinho added: "It is not easy. We did that against Burnley and will do it in some more matches if we need to do.
"For both of them to play together we really need them to be at their best level."
Manchester United are next in action on December 30 against Southampton at Old Trafford.