Harry Kane
Llorente: Everything Kane touches turns to gold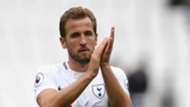 Fernando Llorente has been impressed by Harry Kane's goalscoring form this season, stating that everything the striker touches "turns to gold".
With 11 goals in 10 games in all competitions, the 24-year-old has been the star man for Mauricio Pochettino's side, who sit third in the Premier League after eight games.
Kane 5/1 first scorer v Madrid
Kane has also been in excellent form for England, having scored four goals in as many games as they finished top of World Cup qualifying Group F.
Kane's performances have seen him linked with a big money move to Real Madrid in recent weeks, but he will come up against the Spanish side instead in Tuesday's Champions League encounter.
And Llorente says his Spurs team-mate will be pivotal for a side looking to compete with the top sides in Europe.
"We have very good players, capable of playing very good football," he told  Marca . "With Harry Kane, everything he touches turns to gold. And he is very well protected.
"Among the great teams in Europe, where Tottenham are included, there are not that many differences. They are very even.
"It is time for Tottenham to win a title, and since I have arrived I am convinced that this year we can do it."
Spurs and Madrid sit joint top of their Champions League group with identical records, and Llorente is aware a very tough game awaits his side.
"It's very complicated. They have achieved stability and are an impressive team," he added. "Years ago they always had impressive individuals, but in the last four seasons they have won three Champions Leagues and are now a great squad. They are a very difficult team to beat but while I was at Juventus we did so in the semi-finals a few years ago.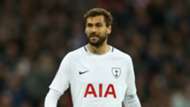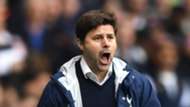 "Against them you have to have control, it is not worth stealing the ball. Madrid kills you because they have more quality and effectiveness than you, but they always give you options.
"We should play our very best game, especially defensively and not neglect the spaces in behind, because Real have lethal players and that's why you have to play with great precision: against Madrid you can not miss those silly balls in the middle, for example."
The Spain striker joined Spurs from Swansea in the summer, passing up an offer to reunite with Antonio Conte at Chelsea in the process, with the presence of Pochettino leading him to north London.
"It was a difficult decision that I had to take at the last moment," he said. "Conte, whom I admired since I was with him at Juventus, showed a great interest in me since last January. But Chelsea did not finish the deal with Swansea.
"With Tottenham everything was easier and faster. Pochettino called me on August 30 and I fell in love. I was filled with enthusiasm by his words and his sports project ... I thought I was going to Chelsea but Tottenham were more firm in their intention to sign me.
"They reached an agreement very quickly with Swansea and despite all of those difficult circumstances [with Chelsea], I decided to come to Tottenham.
"I know Pochettino. I know how he worked at Espanyol, Southampton, and how he has changed Tottenham in three years. This club has a lot of stability, they are a family and the project is spectacular, it does not stop growing. I'm very happy to be here."