Manchester United
Lindelof: Signing for Man Utd was an easy decision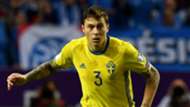 Victor Lindelof says it was an easy decision to join Manchester United after completing his "dream" £40 million move from Benfica on Wednesday.
The Swedish centre-back joins the Red Devils on a deal worth an initial £30.9m, and he has admitted that while he enjoyed his time in Portugal he didn't think twice about taking the chance to join up with Jose Mourinho's side.
"I was in Benfica for five years so for me to leave of course it was not a tough decision but a hard decision because I was happy there and I developed a lot as a player," Lindelof told MUTV. "But when this opportunity came it was very easy to take it.
"It feels great, and I'm very, very happy to be here at this great club. I couldn't be happier."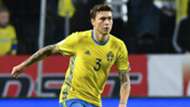 The 22-year-old added that the chance to work with Mourinho himself was also a huge attraction.
"It feels great knowing that the coach wants you, so to finally be here makes me very happy," he continued.
"I've spoken to him, and it was a good chat. It's very important for me as well to hear what he has to say. Of course he's a great coach, and for me to be able to work with him it's a great opportunity for me."
Lindelof has 12 caps for Sweden, and has gained a reputation at both club and international level for his assurance at the back.
"I think I'm quite a calm player, I like to have the ball at my feet. I think I'm quite good at reading the game and I think I give the players in front of me a sense of calm, they know I'm back there and I try to protect them as good as I can."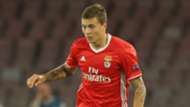 While he is expected to form a centre-back partnership with Eric Bailly, his versatility has also been a selling point to United.
However, he insists that he believes the heart of defence to be his natural domain.
"My position is a centre-back, but I've played right-back before and I started my footballing career as a midfielder. But I see myself as a central defender, I feel most comfortable there.
"There are some great players here in my position, but I'm here to do my best and try to help the team as good as I can. It's always good to have other good players around you because when you have that you get better as well.
"I always had a dream to come here and to play in the Premier League, so it's a dream come true. Everywhere you go you have to adapt to a new environment, but I feel comfortable in myself and I trust myself.
"Of course United is one of the biggest clubs in the world and you always want to win titles, so it's also my goal that I want to come here and win titles. I think that's the goal of the club and the other players as well."