Liga MX
Liga MX Talking Points: Heat on Jemez, Tigres troubles lead Week 5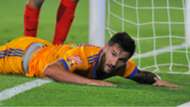 It should be no surprise to fans of Liga MX that things are a bit topsy-turvy right now. We're just four weeks in and the pack is yet to separate. Things are like a horse race — there are a few front runners and some obvious stragglers who stumbled out of the gate, but for the most part any entrant could finish anywhere in the table.  
Last tournament's top regular season finisher, Tijuana, is on the bottom. Reigning champion Chivas sits 15th. Promoted Lobos BUAP is fourth, while Tigres and all their spending power are 11th with just one win.
Some of those starts will stick, many others will change. Let's dig in to what everyone's talking about ahead of this week's slate of games:
---
It's a big weekend for ... Paco Jemez - yes, again
---

Paco Jemez did not lay low, he did not find a safe house. After generating controversy for directing an unpleasant gesture toward the stands, he refused to apologize for his actions and ended up getting sent out of the team's midweek Copa MX match.
On the one hand, Cruz Azul almost has to back the manager, which it did with a Twitter hashtag among other shows of support during the week. After all, it's been quite some time since La Maquna rolled through the first four matches of the season without tasting defeat, even if the last three matches have been draws. And a 10-match undefeated streak across all competitions? Jemez will have to do more than flip the bird to face the axe.
Yet, this week's contest with Atlas visiting still will be a test for Jemez. There's no salve for wrongdoing, and nothing that would solidify Jemez's safe situation with Cruz Azul like a win over an Atlas side that has been plucky so far this season even as it saw its winning streak snapped with consecutive defeats.
---
Game of the Week ... Tigres vs. Pumas
---

This game already would be one of the best of the weekend before Thursday's events, but Pumas signing Marcelo Diaz after he was rumored to be headed for Tigres adds just a little bit more intrigue to Saturday's feline face-off. The Chile international to watch will not be Diaz, though, but forward Nicolas Castillo. After a red-hot start to the Clausura he hit a rough patch both on and off the field. After avoiding a suspension for comments about officiating on social media, Castillo is ready to take on the Tigres defense.
Tigres coach Tuca Ferretti is used to being able to rely on his veteran back line, but while his new-look back three helped the team control possession at Estadio Hidalgo, the two goals allowed continued a stream of five straight games allowing a goal in all competitions. In that same stretch, Tigres has yet to win. With so many attacking players, going back to the 4-3-3 may not be the answer, but Ferretti does need to find the right alignment and movement to get his team back to its staunch ways.
It may not be the weekend for it, though. Castillo's four goals lead Liga MX and he has scored all but one of the Mexico City side's goals so far this season. If center back Hugo Ayala is able to shut down the 24-year-old, Tigres could once again nab three points.
---
Keep an eye out for ... Sunday's showdown
---

There's just one game Sunday ahead of the doble jornada that brings us a full midweek slate of action, but luckily for us it's a good one. Toluca quietly has stayed undefeated through the first four matches and sits third with two wins and two draws. Despite losing goalkeeper Alfredo Talavera to a knee injury that will keep him out the rest of the year, Hernan Cristante's defense has been difficult to beat when the team goes away from the Estadio Nemesio Diez. At home, as they are Sunday against Necaxa, the Red Devils have played much more openly, scoring three goals in both contests.
Necaxa also sits in the top half of the table at this early stage but is coming off last weekend's surprising 3-0 defeat to Leon. Previously, the team had been undefeated in seven matches and looked to be recovering the same stingy defensive form it showed immediately upon promotion last season.
Typically the Friday night doubleheader, usually featuring a handful of American internationals, and the busy Saturday night draws the attention of the #LigaMXEng community, but it'll be worth tuning into the last game of the weekend this week as well.
---
Quote of the Week
---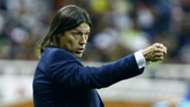 "How much did it hurt you that Chivas became champion?" - Matias Almeyda, Chivas manager
According to the Chivas coach, asking the referees just how upset they were to see his team lift the trophy was the last straw before he was sent off against Monterrey last week. He's now facing two matches out, meaning he won't be on the bench for this week's match against Puebla and the midweek trip to Santos Laguna.