PSL
Komphela won't compare Kaizer Chiefs' Paez to Torrealba and Castro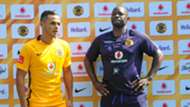 Kaizer Chiefs coach Steve Komphela strongly believes that South American strikers bring a new dimension to the South African football, and he doesn't think Gustavo Paez will be different.
Jose Torrealba and most recently, Leonardo Castro, took the PSL by storm, but the 49-year-old mentor didn't want to compare Paez to the two strikers.  
"I think they do [bring a new dimension to SA football]' but I have been very cautious in terms of utterances because what you say here goes, and he still has to prove whether what you said will go," Komphela told the media. 
"But these strikers do make a big difference. We do know what Torrealba and Castro did," he said. 
Komphela said what made him like Paez even more was his pace and ability to score goals.
He is confident that the 26-year-old will withstand the pressure that comes with wearing the gold and black jersey of Amakhosi.  
"Physically he's quick. He's got good technique. He's quite smart mentally, and in terms of execution' from the matches and the training sessions that we have seen' he can finish'" Komphela confidently said.
He added: "And in different ways, he can finish with the head' with the left and the right [foot]. There was a penalty he took at Dobsonville where he hit the roof of the net, and he's confident."  
"For a striker it's all about confidence' and bordering on arrogance. He's not arrogant' but he's confident enough to take [chances], and he'll withstand the pressure," Komphela concluded. 
Paez, who signed a two-and-a-half year contract with the Glamour Boys, was unveiled on Thursday morning.