Kia
Kia Champ into the Arena – Fans to compete in Russia during FIFA World Cup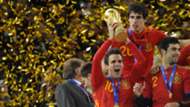 Ever dreamed of taking on the globe at the FIFA World Cup?
Well KIA Motors have offered a group of lucky football fans the chance to do exactly that in Russia this year.
As the official automotive partner of the 2018 FIFA World Cup, Kia are elevating the passion and pride to whole new level, bringing the small pitch game to global. In a 5-a-side tournament, Kia are offering football fans a chance to be a real champion.
They've teamed up with 2010 FIFA World Cup-winner Cesc Fabregas to launch the Champ into the Arena tournament, an international competition that will invite 16 teams to FIFA World Cup host nation Russia for your chance to become a world champion.
The global finals will take place in the Russian capital on June 30th.