Malaysia Cup
Kedah revived Malaysia Cup hopes with vital JDT win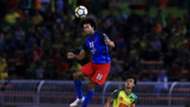 Despite losing the services of suspended Paulo Rangel for the match, Kedah were boosted by the return of talismanic midfielder Baddrol Bahtiar and precocious talent Akhyar Rashid to their ranks to face JDT.
And Kedah responded by taking a very early lead as they started the match very much straight into fourth gear. Sandro da Silva had already forced Farizal Marlias into a good save and from the ensuing corner kick in the 5th minute, the Brazilian pounced quickly to slam home Khairul Helmi's header to put the home side ahead.
The Southern Tigers responded rather well to going a goal down and began to dictate play but found it hard to break through Kedah's defence. Time and again, Safawi Rasid was attempting to get in behind Norfiqrie Talib but Kedah did not heed the warning signs.
With nine minutes to go before half time, Safawi made the same run again and this time he was found by Fernando Elizari's pass. The forward played the easy square ball for Fernando Marquez to tap in the equaliser.
Kedah lost right back Syazwan Tajudin right before half time and were forced to a personnel reshuffle. Midfielder Akram Mahinan was pushed into right back with Andik Vermansah going to the right wing position.
Yet the parity was only temporarily restored as The Red Eagles retook the lead after only two minute of the restart. Liridon Krasniqi's outside of the foot pass to Andik Vermansah wasn't good but La'Vere Corbin-Ong and Farizal got in each other's way in attempting to get to the ball.
The ball bounced kindly into the path of Akhyar and the Malaysian international made no mistake to guide the ball into an empty net for Kedah to lead 2-1 on the night.
Desperate, Luciano Figueroa threw on Hazwan Bakri for a tiring Safawi and Syamer Kutty replacing the more defensive minded Gary Steven Robbat in central midfield. Centre back Marcos Antonio was also pushed forward into a striking role in the last five minutes of normal time. 
Having already earlier received a yellow card for a professional foul on Andik, Antonio's foray forward was a shortlived one as he saw his second yellow for a late foul on Kedah's keeper Abdul Hadi Hamid.
Kedah not only held easily held on but had the final say on the match when Liridon was at the end of a quick counter attack to unleashed an unstoppable shot past a stranded Farizal to move The Red Eagles above JDT in the group standings.
This loss is the second that JDT have suffered in the group stage thus far, having lost in the first match to MISC-MIFA. The defeat is even more painful for the champions as they now drop to third place in the group and will need a final day result to avoid an early exit from the 2018 Malaysia Cup.