United States
'We were just a bit toothless' - Altidore still not a fan of USMNT's lone forward setup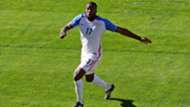 SAN DIEGO — Jozy Altidore's 100th U.S. national team cap made Sunday's friendly against Serbia a milestone occasion, but there was little else for Altidore to want to remember about the match.
The striker couldn't hide his frustrations about a contest that saw few dangerous chances for the Americans.
"It's tough man, it's a January camp. It's difficult, it was a difficult game," Altidore said after the 0-0 draw at Qualcomm Stadium. "They did well defending. I thought we weren't really that dangerous going forward. It's something we've got to work on."
Nagbe, Lletget show well in U.S. draw
While the U.S. striker had a few half-chances, he found himself struggling for service for long stretches as he manned the lone forward role in a 4-2-3-1 formation he was more than willing to call a system he's not a fan of.
"I think it's no secret — for me, I'm better with kind of a partner up there," Altidore said. "I'm not a huge fan of a 4-3-3. It's difficult. You need really dynamic guys to be able to play it. We'll see how it goes."
The U.S. managed 12 shots on the night, but only one of them was on goal. Altidore's best opportunity saw him miss just inches wide in the first half, though he was more active in the second half after the introduction of Sebastian Lletget, Chris Pontius and Benny Feilhaber.
"It was good to see the ball in the second half a little bit, because the first half was a bit quiet," Altidore said. "That's what it is in this formation — you're lonely a lot at times."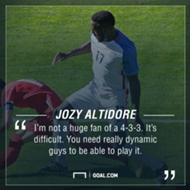 Altidore may not like the system, but chances are he's going to see more of it in the coming months as U.S. coach Bruce Arena looks to deploy a formation best suited for his entire player pool rather than a look specifically built for Altidore.
"He's a No. 9 type of player, he can certainly do that," Arena said. "The key with Jozy is getting someone a little closer to him. That was (Sacha Kljestan's) job today, and (Darlington) Nagbe got close and sparked some combinations with him. We'll still look at Jozy playing with another striker as well."
Altidore has enjoyed success as the lone striker before during his career, most notably during his time with Dutch side AZ Alkmaar, though he benefited from a very dynamic AZ midfield during that time. With Toronto FC, Altidore thrives playing with Sebastian Giovinco working off of him in a two-forward setup.
Arena finds himself in the unenviable position of wanting to implement a system he plans to use in March's World Cup qualifiers while also dealing with the realities and limitations of the January camp.
"This time of year the attacking players are a little bit behind," Arena said. "They're just getting their fitness back, and their touch and all that. They trail, a little bit, the other players and you could see that today."
Altidore's comment regarding the system needing dynamic players is a fair one, and Arena's motivation for installing a 4-2-3-1 system could be centered around the formation's ability to maximize the qualities of his central midfield as well as Christian Pulisic, who Arena sees best as a winger at this point.
A setup with Pulisic and Bobby Wood working on either side of Altidore in a de facto 4-3-3 could be an effective system come March, and that system could also feature a three-man midfield of Michael Bradley, Sacha Kljestan and Jermaine Jones, though Jones is suspended for the qualifier against Honduras.
If Arena does see that setup being the most effective with a full-strength squad, then it makes sense why he would want to start implementing it now. As he noted earlier in the week, the U.S. team will only have four days together before facing Honduras in the first of two March qualifiers, which isn't much time to integrate the team's European-based contingent.
Establishing a familiarity with the system among the MLS contingent is a good step toward that, even if the domestic player pool isn't best equipped to play the formation well right now.
There is some debate about whether the full-strength U.S. team might be better suited to a 4-4-2, especially considering Altidore and Wood have looked more impressive playing in a two-forward setup.
The problem with the 4-4-2 is it offers less midfield support for the defense, and given the uncertainties surrounding the U.S. back line, it is understandable why Arena wants an extra body in central midfield. The 4-2-3-1 also allows him to play both Jones and Bradley while also still being able to include a creative midfielder ahead of them.
The U.S. will have another chance to work on the 4-2-3-1 against Jamaica on Friday in Chattanooga, Tennessee. Though the team will have some more time to try and sharpen things up, Altidore didn't sound optimistic.
"We've got a few days to get at it, but unfortunately it'll be a little more of the same," Altidore said. "It's just hard. Some of these guys came off of two months not doing anything, so it's difficult to kind of just pick it up and be in midseason form.
"Hopefully we're more dangerous going forward — I think that's the key," Altidore added. "Defensively we did OK, but I thought we were just a bit toothless up there."