Johnson, Garza and more - Ranking the USA's left-back depth chart
"Anybody can play left back."
That throwaway line from Jurgen Klinsmann, said with a smile just before a World Cup qualifier in June 2012, seemed to dismiss the importance of the position for the U.S. national team. It wasn't so much that Klinsmann was swimming in options, but he almost sounded like a coach resigned to the reality that he just didn't have many good natural left backs to work with.
IN PICTURES: New MLS jerseys for the 2017 season
Klinsmann's five years in charge of the U.S. saw a variety of left back experiments. Some were head scratchers, like Jose Torres, while others served their purpose, like Matt Besler. DaMarcus Beasley's impressive transition to the position helped spare Klinsmann the embarrassment of ever truly being burned by those words, and Fabian Johnson picked up the job shortly after, even though in some ways he felt wasted at the position. If anything, Klinsmann's decision to put Johnson at left back toward the end of his tenture as U.S. coach made it clear he had accepted that not just anybody could play left back.
As Bruce Arena steps into his second tour of duty as U.S. coach, he is inheriting a left back pool with plenty of promise, if not rock-solid options at the moment. Johnson remains the best option at the position, even if many might consider him a better midfielder. That may be true, but the current drop-off from Johnson to the rest of the left back pool is too great to push him into midfield just yet.
There is also something to be said for Johnson's attacking qualities at left back. It isn't as if deploying him at fullback suddenly makes him non-existent going forward. If anything, we saw in 2016 just how effective he can be in the attack on the left, and if Arena chooses to deploy Christian Pulisic on the left wing, then a Johnson-Pulisic tandem could become a strength for the U.S. during a busy year.
It will be up to some of the left backs we saw in the recent winter friendlies to give Arena strong options that can allow him to shift Johnson to midfield, as well as potentially some versatile right backs to fill the void if necessary. 
Here is a look at the 10 left backs at the top of the U.S. depth chart as we roll into 2017, and a closer look at the talent pool: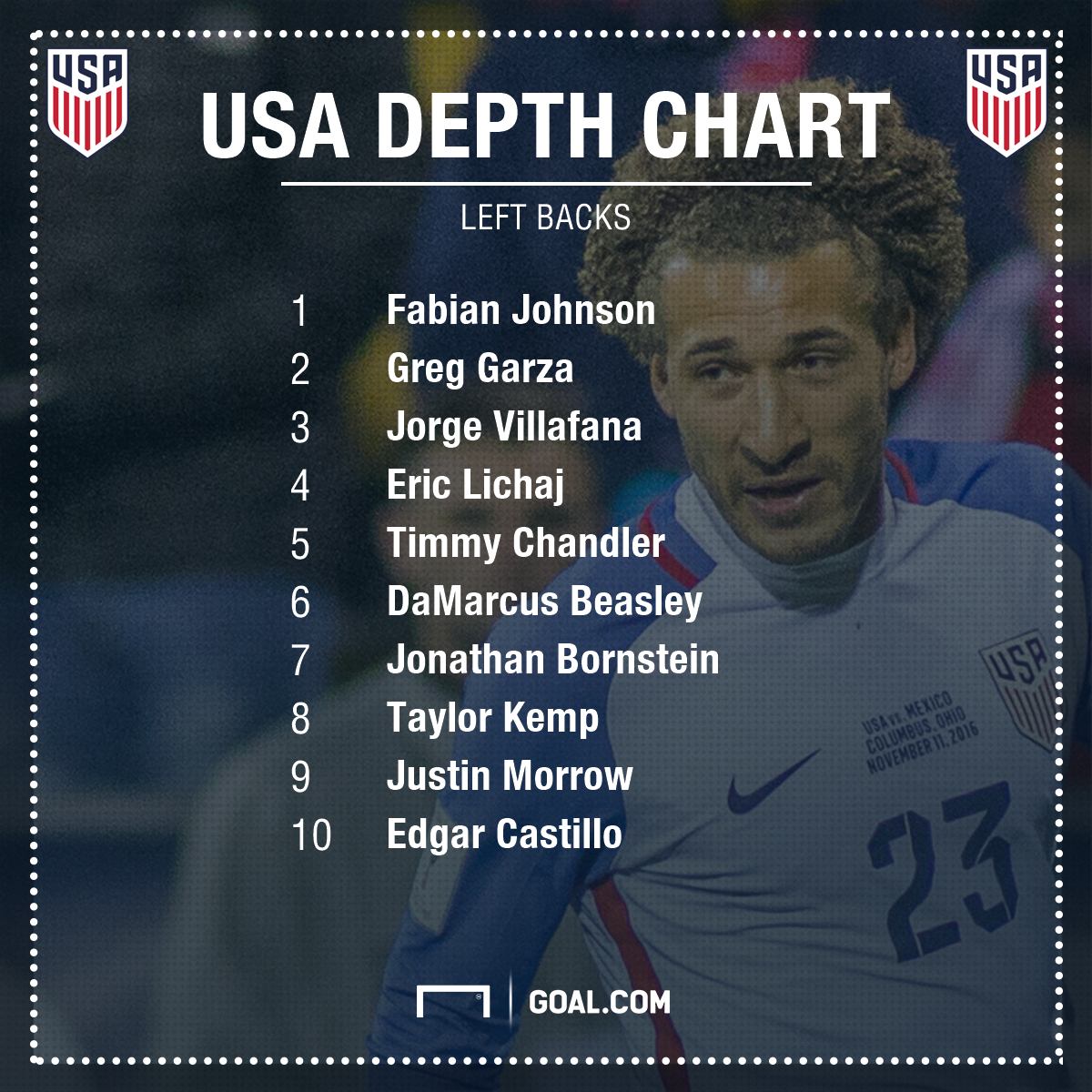 Some might think ranking Greg Garza second is generous, but those who remember how good he looked at left back just two years ago, when he was still healthy, will recall a player who was on the verge of making the position his own. Then a nagging hip injury slowly cost him his form and eventually sidelined him for more than a year.
Now healthy and set to be a starter on loan at Atlanta United, Garza has everything in place to catapult himself back into the conversation of starting options at left back.
Jorge Villafana finally earned his first U.S. caps in the recent winter friendlies, and showed against Jamaica the promise he displayed during his time with the Portland Timbers, and last year with Santos Laguna. He is currently stuck on the bench with Santos Laguna, though, which could keep him from climbing further. But the talent is clearly there, and he will be a contender as soon as he finds regular playing time again.
Eric Lichaj has played plenty of matches at left back for Nottingham Forest, and while he may be a natural right back, and a contender for the U.S. at that position, he is someone who shouldn't be overlooked as a left back option. The same can be said for Timmy Chandler, who has actually looked more comfortable at left back than his natural right back role for the U.S. — something Bruce Arena will want to think about this summer.
Does DaMarcus Beasley still have a role to play? Arena brought him into the January camp, and Beasley did have a good year with Houston in 2016. His experience is unmatched in the left back pool, but he may be at the point in his career where he isn't as dynamic as some of the other options at the position.
Taylor Kemp earned a January call, and it sounds like he did well enough to stay in mind for Gold Cup consideration. But it isn't a stretch to say Justin Morrow was just as good, if not better, than Kemp in 2016. Perhaps the snub will light a fire under the Toronto FC defender.
Remember Jonathan Bornstein? Klinsmann stayed away from the World Cup veteran during his tenure, but it's tough to argue with the fact Bornstein is one of the few Americans actually earning consistent starts at left back outside of MLS. In fact, he is the only one. He has been a regular starter for years now, which makes him someone we should absolutely see considered for a call in 2017.
In terms of long-term prospects, Chicago's Brandon Vincent entered MLS with plenty of hype as a rookie but had his share of struggles. There are some intriguing teenagers deep in the U.S. talent pipeline as well. That may not provide much help for the 2018 World Cup cycle, but it does bode well for the U.S. left back pool for 2022.