Liverpool
'It's better than being at the bottom!' - Coutinho excited by pressure of Liverpool's top-four fight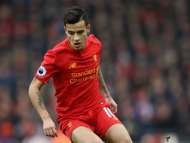 Philippe Coutinho says a club like Liverpool "deserves a steady place in the Champions League" as they seek to embrace the pressure of a top-four battle.
The Reds were hoping to challenge for the Premier League title this season, but slipped out of contention following an untimely dip at the start of 2017.
Jurgen Klopp's side have, however, been able to cement a standing among the front runners and remain perched in third spot at present.
The misfits driving Liverpool's aims
The intention is to lock down that berth, with Coutinho looking forward to facing the challenges which lie ahead as an iconic club endeavours to position themselves back among the European elite.
The Brazil international told Liverpool's official website: "It's fantastic. When you're fighting for these positions in the league, it is fantastic – much better than being at the bottom or middle of the table and fighting not to go down even further.
"It is a very healthy pressure. All of us see this as a great opportunity for us, so this ends up giving us a feeling of positive pressure. We are all well aware of the work we need to do. As everyone knows, everything is in our hands now, so we need to search for the three points in each of our last three games.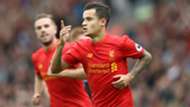 "Liverpool is a huge, great club and it needs to be playing in these competitions. Liverpool deserves a steady place in the Champions League, so we are trying to improve this situation and keep ourselves there, make ourselves a regular in this competition again – and that's what we're aiming for."
Coutinho added on a season-long scrap for qualification: "Our target is something we wanted from the beginning of the season, we always believed we could be in the top four to play in the Champions League next season.
"It is a great opportunity for us, but the last three games will be like three finals for our team where we need to win all of them to confirm our position in the league. The whole squad is confident."
Liverpool take on Southampton at Anfield on Sunday before rounding off their campaign with a trip to West Ham and a home date with Middlesbrough.
Their Champions League fate is in their own hands as they sit four points clear of Manchester United in fifth, with the Red Devils unable to bridge that gap even when taking into account their game in hand.