Italy
Italy not returning to greatness anytime soon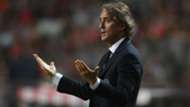 Roberto Mancini has a huge task on his hand and he knows it. An insipid Italy slumped to a 1-0 defeat against Portugal in their second Nations League game in Lisbon.
Of course Italy are in a state of rebuilding themselves after their failure to qualify for this year's World Cup but if anything is to go by, the outlook as fans of the Azzurri will tell you isn't so optimistic. Ironically for the four-time world champions, it was Andre Silva who scored the winning goal against them, considering the fact that this was a player who struggled to score in Serie A when he was with AC Milan.
But then again that fact truly underlines how low Italian football has sunk. From being able to call upon the likes of Del Piero and Francesco Totti in the past, today's Azzurri squad relies on Bryan Cristante and Roberto Gagliardini. Not that they are bad players but the just don't bring the sort of spark that would light up a football match like their esteemed predecessors.
And that was what was sorely missing from Italy's two matches in the Nations League. They were totally bereft of creativity as they knocked the ball aimlessly hoping for a miracle to happen. It must be said that Jorginho's presence in this team is a huge blessing, for the former Napoli man looks like the only player who could play that defence splitting pass for the Italians.
Probably the only antidote to Mancini and Italy's woes right now would be to build the team around the midfielder. It is similar to when the Azzurri and Juventus built their teams around the legendary Andrea Pirlo. This is because Jorginho and Pirlo are not just players who are pass masters but also they make the team tick with their range of passing. They get the team moving and thus need to be protected by their midfield compatriots.
Italy and Mancini will take time to reach the heights and glories of the yesteryear but at the moment that seems a long distance away.