WC Qualification Africa
'It was not our time' - Zambia's Mweene on World Cup miss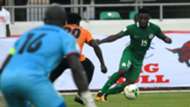 After conceding their Russia 2018 World Cup spot to Nigeria, Kennedy Mweene insists the time was not right for Zambia to qualify for the showpiece.
The Chipolopolo were hoping for their debut appearance in Russia next year after they had overcame an unimpressive start to the qualifying series with wins against Algeria last month.
But their hopes were dealt a huge blow as an Alex Iwobi-inspired Nigeria defeated them 1-0 at the Godswill Akpabio International Stadium in Uyo.
"It was not easy for either Nigeria or us but sometimes when you play a game that is predictable, where people could say Nigeria could win 4-0 or vice versa, then it is not a good game," Mweene told Goal .
"It was an end to end match and good for football advertisement and a good game for the fans to watch and enjoy. There was no moment where you could say either of the teams was tired.
"I think we did enough but it was not our time yet and we missed a couple of chances and sometimes you must accept when God says it's not your time and you must live with it.
"In games like this, it is only a small mistake and you get punished. They played well though we gave them a fight and didn't have it easy. They did their homework and deserve their win and going to the World Cup. They just have to make us proud in Russia. I cannot say Nigeria do not deserve to qualify for the World Cup because they fought.
The 32-year-old Mamelodi Sundowns goalkeeper expressed joy in the exposure and progress of the youngsters coming through the ranks and believes the Chipolopolo will be a force to reckon with in few years to come.
"Personally, I'm not disappointed not qualify for the World Cup because, since 2012, we've been struggling since winning the Nations Cup. It is high time that the young stars came in and this is what the coach is doing.
"They have to gain experience with games like this - the games against Nigeria, Algeria, and Cameroon. So, I'm not disappointed because the young stars came to the party but only just need some guidance not to get big headed when they get back to their clubs in Zambia.
"So as to see the bigger picture with many competitions coming up because most of us play in the local league and everyone will see them in CHAN, not like some of us who play outside the country. I think it is a very good we are making as a team if you look at everyone and I believe If we continue like this - possibly in one or two years - it will be a different Zambia.