Bayern München
'It was not easy for me' - Gotze opens up on complicated Pep relationship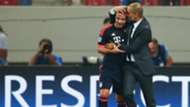 Mario Gotze has expressed his admiration for Manchester City manager Pep Guardiola, while admitting that the pair did not enjoy a fluid relationship at Bayern Munich. 
Guardiola swooped for the Dortmund star in 2013, to make Gotze one of his first signings at the Allianz Arena. 
But despite winning three consecutive Bundesliga titles together, the forward struggled to replicate his best form while under Pep's wing. 
Now he has revealed that despite his deep respect for Guardiola's track record, they did not click on a personal level. 
"Pep Guardiola was technically one of the best coaches, a tremendous enrichment. But I had the feeling that he thinks only in the grid and leaves out the people and the outside," Gotze explained during the DAZN documentary ' Being Mario Gotze'. 
"The empathy was not that big. It was not easy for me, just because I came from Kloppo, who was like a footballing father.
"Pep was a complete difference. A world-class coach needs empathy, every athlete is also human and you should combine both. "
Gotze, who is now back at Dortmund in his second spell with the club, nevertheless has no regrets over his decision to leave in 2013 or his time at Bayern.
"I did not think so far, on what it meant and how people react on it. When I look back, it can be said that it was selfish, but in the end it is also a competitive sport," he added.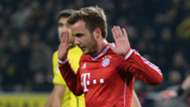 Bayern's Matthias Sammer believes that Gotze deserves more credit for his Bayern spell, while admitting that the club could have done more to make him feel at home as a young talent.
"Mario has received too little love and recognition at Bayern. Young, sensitive people need rhythm in their lives," Sammer told DAZN.
"That was taken from him. Mario and I had a close relationship, but I was not the coach. Mario with his deep way of thinking must feel love and trust, he must be untouchable.
"At the same time Pep Guardiola: Full of ambition. That's why he sometimes had too little calmness and independence in his decisions. It was logical for me to comfort Mario. The club was not able to do that. You have to be able to read people and meet their characteristics and abilities. Unfortunately, not many people recognize that."