Lionel Messi
Israel vs Argentina friendly cancelled following Messi threats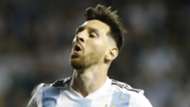 Argentina's controversial friendly against Israel has been suspended after threats towards Lionel Messi and waves of protests. 
Reports had surfaced in Argentina on Tuesday that the match would be called off, with Palestine's Football Association celebrating the news. 
Palestinian FA chief Jibril Rajoub had helped spark the controversy with his claims that fans should burn Messi photos and shirts if the Argentina star faced Israel in Jerusalem.
And now the Israel embassy has confirmed the news, saying that civilians in the area are no strangers to the "threats and provocations" aimed at Barcelona star Messi.
"The Israeli embassy is sad to announce the suspension of the match between the Israel and Argentina national teams scheduled for Saturday June 9, as a warm-up for the Russia World Cup," the statement reads. 
"The threats and provocations directed at Lionel Messi, which logically aroused the solidarity of his colleagues and fear of playing the friendly, are no strangers to the daily life of Israel's civilian population whose sporting stars, to put it simply, have been on numerous occasions the targets of violence and attacks.
"The friendship between Argentina and Israel, which will soon celebrate its 70th anniversary, is not about a football match. The democratic country and plural state (composed of Jews, Muslims and Christians), will always eagerly await the chance to receive one of the stars of Argentine sport."
Argentina forward Gonzalo Higuain also backed the news, claiming that the well-being of the players must be the first priority. 
"I think that in the end the right thing was done," he told ESPN. "It's now behind us, obviously our health and common sense comes first. We think the right thing to do was not to go."
Argentina's next match is now slated to be their World Cup Group D opener against Iceland on June 16, with Messi and his team-mates having only played one warm-up match - a 4-0 win over Haiti on May 30.
That has undoubtedly disrupted Jorge Sampaoli's preparation plans and it seems highly unlikely that a new friendly will be scheduled in time before the Argentina squad heads to Russia.