NorthEast United v Bengaluru
ISL 2018-19: Carles Cuadrat - NorthEast United have done very well this season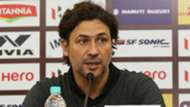 Bengaluru FC look unstoppable in the Indian Super League (ISL) as they find themselves on top of the table, four points ahead of opponents NorthEast United FC, with a game in hand. Naturally, coach Carles Cuadrat is pleased with his team – especially his defence – which has conceded just six goals so far. 
"The players are working really hard in defence and our strikers are helping a lot in tracking back and preventing opposition attacks. These players know me and they are very committed in their defensive aspect and as a coach, it's very nice to see." 
The 50-year-old has a lot of respect for NorthEast United and expects a tough game at Guwahati.  
"NorthEast United FC have done really well this season. From all their games that I've watched this season, I can see that there's a lot of work going on behind the scenes. They've been working hard and you can also see that they have done well with their scouting. They've brought in some good players and you can see that the club is growing." 
Rahul Bheke has been making headlines for all the right reasons and the right-back was also voted as the fan's player of the month for the month of November. Cuadrat appreciated the 27-year-old's efforts. 
"My only message to Rahul Bheke is not to score into our goal again. You can see how much he has improved over time. He was our first outfield player pick at the draft last season because we trusted his abilities. We didn't know if he would understand the concepts and we can see that he is an excellent player. He's also at an age where he is improving his game every season and I'm really happy with the way he is helping the team get the results we want," he exclaimed.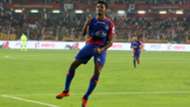 Bengaluru's top scorer from last season Miku is undergoing treatment in Spain and an injury has kept him out till January.  
"It's a shame for all of us that we miss Miku because football as a show deserves to have players like him on the pitch. We have other players who can fill in the position, but when you are talking about talent, it is tough to replace someone like Miku," Cuadrat explained. 
The 50-year-old also gave an insight of the team news ahead of the clash against NorthEast United. 
"We've travelled with 19 players because we are unsure about Serran's availability for tomorrow, but he trained with us this morning and we'll leave that decision for later."  
The Spaniard spoke about how the tournament has nurtured the Indian players. Cuadrat
foresees a bright future for the sport in India. 
"The Indian players are developing a lot. The competition is improving their quality and game after game, the football they are playing is becoming better. To see how these players were three years ago and to see the way they are now, the change is evident.

"It is time for India to take that big step because these players are getting better every day. They are getting competitive and are as good some of the players in other countries in the area, so I believe the future looks good for Indian football."